What You See In The Mirror Worksheet
Worksheet published on January 19th, 2018
Worksheet updated on January 3rd, 2021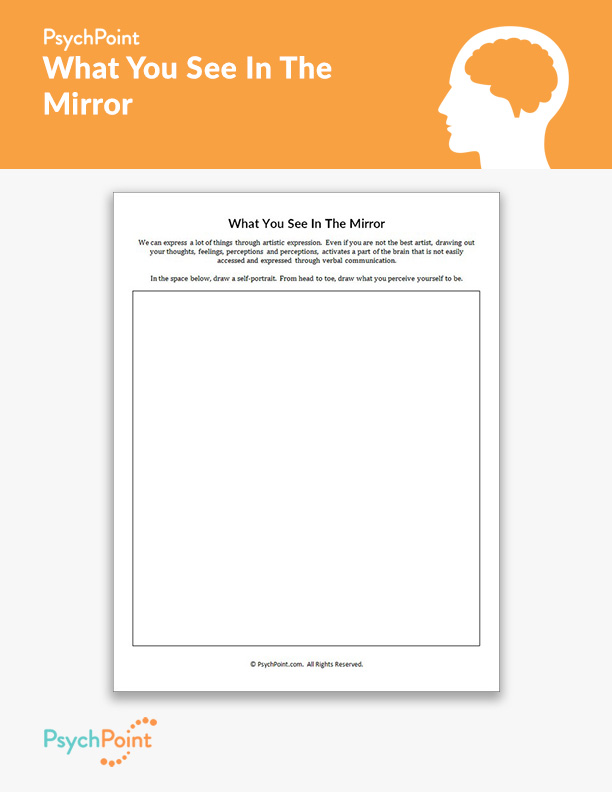 It is not uncommon to have a client pass through your doors who has low self-esteem and a poor awareness of who he or she is and how he or she fits into the world. This can cause a great deal of unpleasant feelings and anxiety within a person, as he or she struggles to understand how to fit into the world.
When working with such a client, it is important to understand how the person sees himself or herself through their own eyes.
About This Worksheet
This is the What You See In The Mirror worksheet. This worksheet uses art therapy techniques to have the client represent what he or she sees and interprets when reflecting on the self.
A great deal can be learned by seeing what picture a client draws when prompted to draw what he or she sees within themselves, and that information can be telling for both the therapist and the client.
Instructions
For this worksheet, ask the client to "draw you". This exercise is meant to be expressive and engage the client's ability to self-reflect, so it is important to not give too much instruction or guidance- the guidance should come from within the client.
When the client is finished, reflect and discuss the image he or she created, talking specifically about elements in the picture and what inspired them to draw them.
For best results, have the client complete this exercise within the first 3 weeks of therapy, and then again after 6 months, or after significant progress is shown from the client. Compare the two to serve as a visual measure of progress. You'd be surprised what you both learn!
More Mindfulness Worksheets