My Fears And Strengths Worksheet
Worksheet published on June 21st, 2023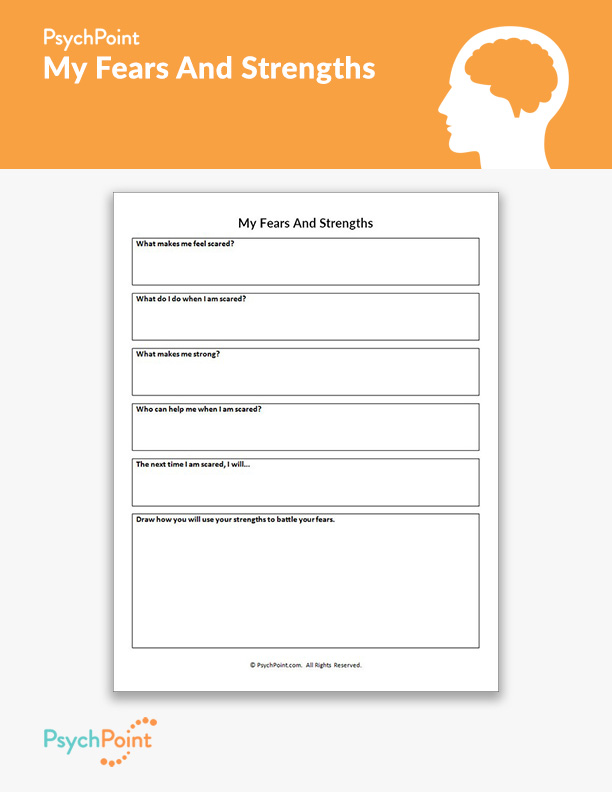 Children find it hard to cope with things they do not understand. There are many people, places, and things in the world that scare children, and when children are afraid they feel lost, alone, and vulnerable.
A fearful child will have a hard time developing the confidence they need to face their fears, but helping them discover their strengths can help with building self-esteem, boosting confidence, and encouraging them to take action when they are afraid.
It is helpful for a child to learn how to face their fears. Helping a child feel encouraged to use their strengths increases their ability to feel equipped and capable of confronting what is scaring them. It can also help with building self-esteem and a sense of security, which helps the child feel confident when faced with difficult things.
About This Worksheet
This is the My Fears And Strengths worksheet. It is a child therapy worksheet that has two goals: 
Identify the things that make an anxious or fearful child feel afraid.
Discover the strengths that the child has to overcome their fears.
On this worksheet, the child is asked questions about their fears and strengths in a safe space with a trusted adult, which can help them feel comfortable to open up about their fears and give them a voice to express how their fears affect them.
The child is also encouraged to explore their strengths on this worksheet, which opens up a space where the child can claim the strength they have inside of them to overcome their fears, along with the resources that they may not have previously realized they had.
The My Fears And Strengths worksheet is a children's worksheet with an art exercise that includes a drawing section. It can be used in individual and group sessions.
Instructions
This worksheet consists of two sections. In the first section, the child is asked reflection questions regarding the child's fears and strengths.
The second section of the worksheet is an artistic exercise in which the child is asked to draw how they will use their strengths to battle their fears. 
The exercises on this worksheet can help with exploring a child's fears and behavioral issues while empowering them to remember they are not helpless or alone in times when they are afraid. It can be particularly useful for cases of anxiety, behavioral issues, grief, trauma, and abuse.
More Codependency Worksheets