My Fears And Strengths Worksheet
Worksheet published on February 9th, 2017
Worksheet updated on January 3rd, 2021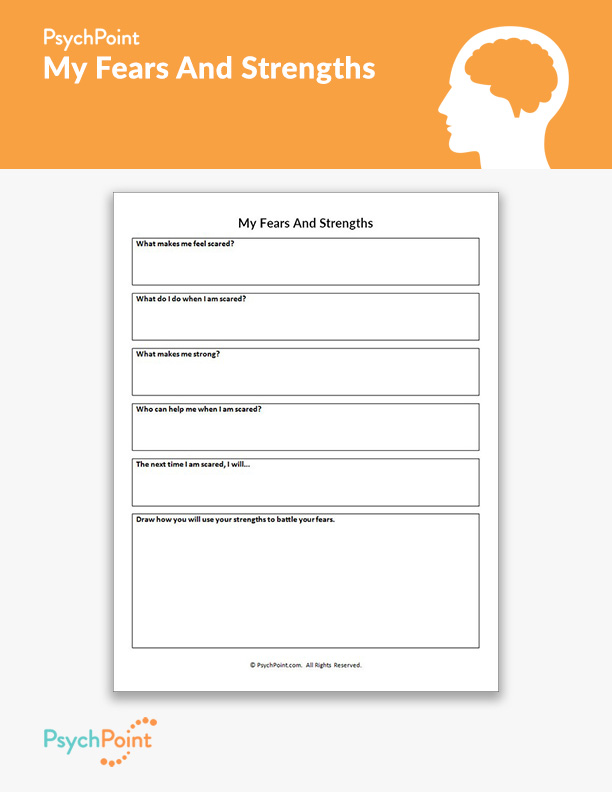 Children find it hard to cope with things they do not understand. There are many people, places and things in the world that scare children, and when children are afraid they feel lost, alone and vulnerable.
Children who are fearful have a hard time developing the confidence they need to face their fears, but if they can discover their strengths it will build their confidence and encourage them to take action when they are afraid.
About This Worksheet
This is a worksheet with two goals: identify the things that a make an anxious or fearful child feel afraid, and discover the strengths that the child has to overcome their fears.
This worksheet asks the child questions about their fears and strengths in a safe space with a trusted adult, which will help the child feel comfortable to open up about their fears and give them a voice to express how these fears affect them.
The child is asked about his strengths, which opens up a space where the child can brainstorm the strength they have inside of them to overcome their fears, along with the resources that they may not have previously considered.
Instructions
This worksheet consists of two sections. In the first section the child is asked 5 reflection questions regarding the child's fears and strengths.
The child is asked:
What makes you afraid?
What do you do do when you are afraid?
What makes you strong?
Who can help when you are afraid?
What will you do the next time you are afraid?
The second section of the worksheet is an artistic exercise in which the child is asked to draw how they will use their strengths to battle their fears. This worksheet is appropriate for both individual and group settings, and can help a with understanding fears and behavioral issues while empowering the child to remember they are not helpless when they are afraid.
The exercise can be particularly useful with anxiety diagnoses, behavioral issues, grief, trauma and abuse victims.
More PTSD Worksheets