Reflections: Communication Skills For Confrontation Worksheet
Worksheet updated on January 3rd, 2021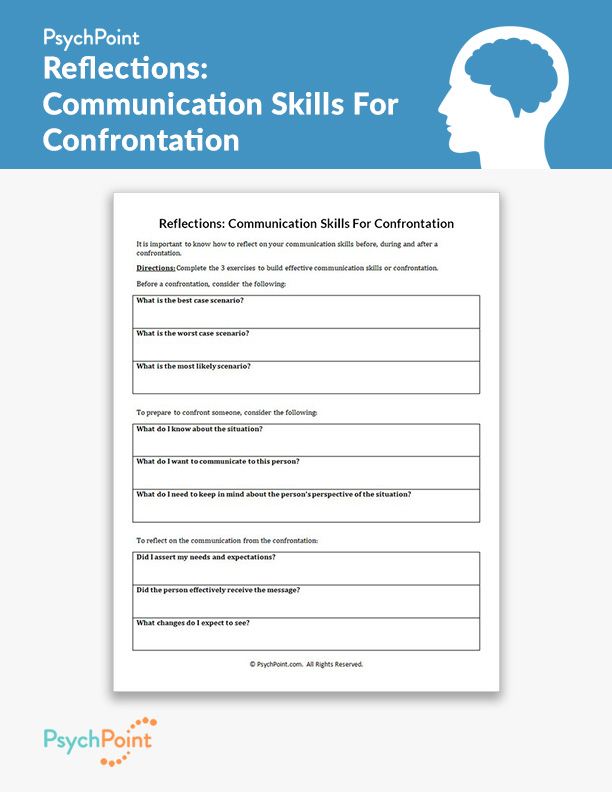 Having healthy communication skills are important, but also challenging to develop. Some people may struggle with articulating their feelings and needs. It is common for a client to struggle with being assertive or understanding what it means to be assertive with your needs.
Learning how to reflect on a situation before confronting another person can be a valuable skill for learning effective communication.
About This Worksheet
This is the Reflections: Communication Skills for Confrontation worksheet. This worksheet provides prompts to facilitate healthy reflection skills for communication.
This worksheet specifically targets communication skills for confrontation. It provides a total of 9 questions to guide clients on how to make healthy decisions when confronting another person.
Instructions
This worksheet is divided into 3 sections, each asking 3 questions. The 3 sections include:
Before a confrontation, consider the following.
When preparing to confront someone, consider the following.
To reflect on the communication from the confrontation.
Review the concept of the worksheet and the plan for confrontation with your client. If desired, the therapist may complete sections 1 and 2 with the client before the confrontation.
Section 3 is intended to be addressed after the confrontation. Instruct your client to reflect on the 3 questions either on their own or during the next therapy session.
This worksheet is great for adolescents and adults. It is ideally used in individual, couples or family sessions.
Download Reflections: Communication Skills For Confrontation Worksheet
More Behavior Worksheets