Emotion Regulation Skills: Opposite Action Worksheet
Worksheet updated on January 3rd, 2021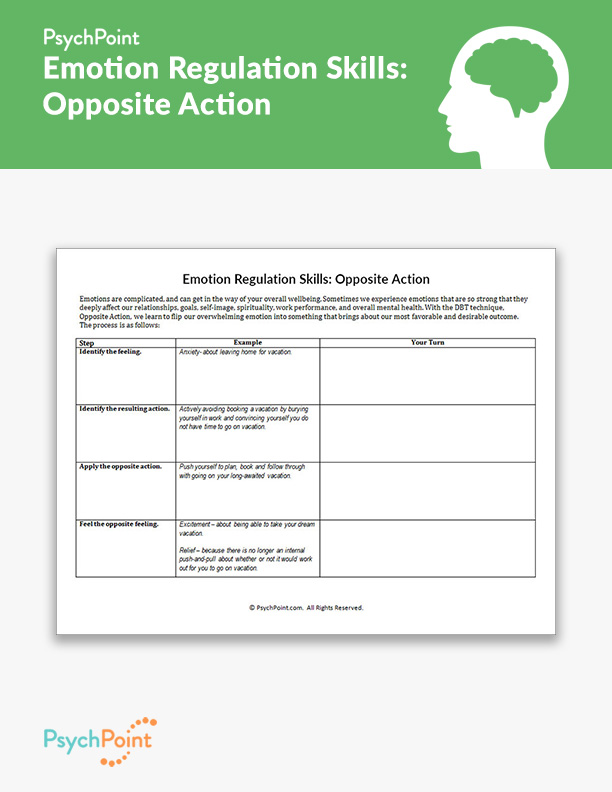 One of the hardest things for a client to work on is how to learn how to understand, regulate and control their emotions. Emotions are tough, and can often lead clients to behave in a way that is detrimental to themselves and others. A major goal for most clients is to learn how to regulate their emotions so they do not cause consequences in their lives.
It is important for clients to learn coping skills to manage their emotions, and using DBT techniques like Opposite Action is a great way for a client to learn how to remain in control when feeling low or down.
About This Worksheet
This is the Emotion Regulation Skills: Opposite Action worksheet. This worksheet uses the DBT skill opposite action to teach clients how to overcome their negative emotions. The idea of opposite action is to act in the opposite way that the emotion leads a client to want to act. If a client is sad and feels like withdrawing, it is time to call a friend to meet for lunch.
If a client is angry and wants to lash out at others, it is probably time for the client to find a peaceful way and place to decompress. Learning this technique is a great way to help clients learn how to handle their emotions.
Instructions
This worksheet is broken down into 4 easy steps:
Identify the emotion
Identify the resulting action
Apply the opposite action
Feel the opposite feeling
The goal of this worksheet is to help the client not only see the detrimental patterns in their behaviors when feeling negative emotions, but also showing them how it helps to resist the urge to give into these emotions and take positive steps to promote their own mental health and wellness.
This worksheet works best as 'homework' but should be worked through with a therapist before being assigned for the client to use on their own. This worksheet is ideal for individual, couples and family counseling, and could also be utilized in group settings in which DBT and emotional regulation concepts are being applied.
An example is provided on the worksheet to help guide the client when he or she is working on it outside of the therapeutic setting.
Download Emotion Regulation Skills: Opposite Action Worksheet
More Depression Worksheets