Challenging Cognitive Distortions Automatic Thought Record Worksheet
Worksheet published on October 28th, 2022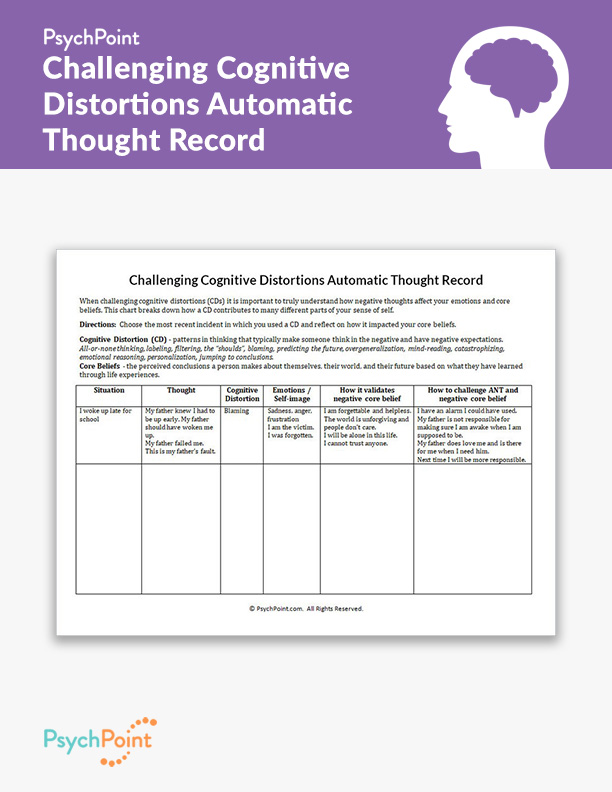 After learning what cognitive behavioral therapy is, how it works, and how components like cognitive distortions, automatic negative thoughts, core beliefs, emotions, and behavior all contribute to our perceptions, it is important to learn how to challenge negative thoughts and cognitive distortions. A great tool to learn how to challenge cognitive distortions is the automatic thought record.
An automatic thought record (ATR) teaches people how to use thought-challenging skills in specific situations. It breaks down the process in which our thoughts and perceptions about a situation influence how we feel about them. An automatic thought record can also help us learn how to challenge our cognitive distortions so they minimally impact our judgment.
About This Worksheet
This is the Challenging Cognitive Distortions Automatic Thought Record Worksheet. This worksheet is an ATR that breaks down how cognitive distortions impact our negative core beliefs and how we react to situations.
The ATR on this worksheet highlights the thoughts, emotions, and cognitive distortions of a given situation. It teaches how reconstructing the way we approach a situation can affect its outcome. It also illustrates the role a person plays in their own negativity, which reinforces the power they have to control how they respond.
Adults can benefit from using the exercise on this worksheet. It is best utilized in individual cognitive behavioral therapy sessions. 
Instructions
For a client to be able to use this worksheet, they must have an understanding of core beliefs, cognitive distortions, and how cognitive behavioral therapy helps them develop healthier judgment and interpretation of upsetting situations. Use this worksheet to help the client look at their automatic thoughts in reaction to a situation. Instruct the client to use the ATR as a resource for challenging automatic thoughts. This will help them learn how to control their thoughts, feelings, and reactions to upsetting situations.
With this process, the client will see how cognitive distortions and ANTs contribute to confirming negative core beliefs. It helps to distinguish the difference between objective reality and their interpretation of a situation.
Download Challenging Cognitive Distortions Automatic Thought Record Worksheet
More Anger Management Worksheets