Positive Traits Worksheet
Worksheet published on January 23rd, 2020
Worksheet updated on July 17th, 2021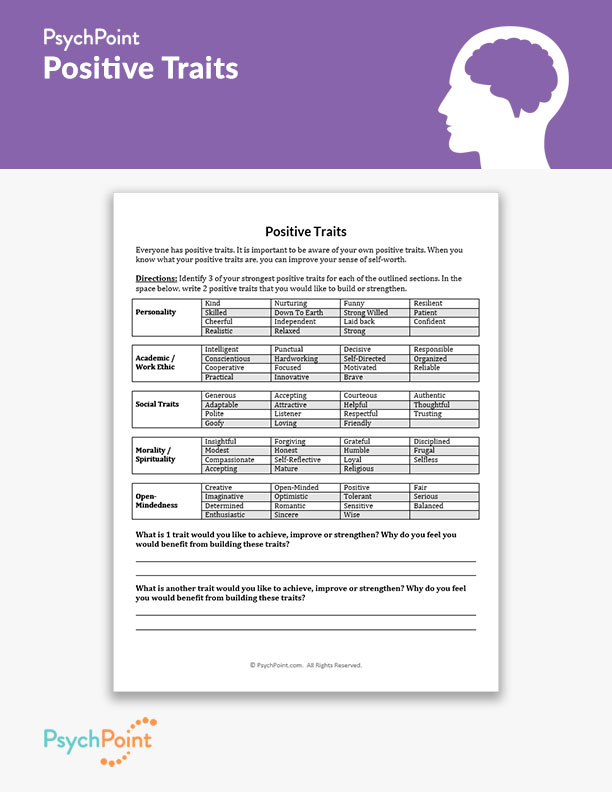 Understanding your own positive traits is an important part of building your self-worth and self-esteem. When you do not know your own positive traits, it is hard to feel like you know yourself. You often do not know how to make proper decisions, or how to behave in a healthy way.
Your self-worth and moral structure is influenced by your positive traits. They help mold your values and help you create a path for yourself toward happiness and success.
Sometimes, clients do not know their own positive traits. This is because they never took the time to reflect on them. Helping a client discover their positive traits can make a huge difference in how they see themselves and their future.
About This Worksheet
This is the Positive Traits worksheet. On this worksheet, a client is asked to reflect on 60 different positive traits and determine which resonates the most with them.
When the client reflects on the positive traits, they get to know their own value and strengths. They learn to internalize those positive traits to achieve their goals.
This worksheet is excellent for adolescents. It also works well with adults. The worksheet can be used in individual counseling or in group sessions.
Instructions
Review the directions with the client. Explain that in discovering their own positive traits, they can build their relationship with themselves. They will have a stronger sense of self-esteem and may even find a sense of direction in their lives.
Allow the client(s) time to complete the worksheet. Upon completion, reflect on the results of their work. Start a discussion about the two reflection questions provided.
Provide a copy of the worksheet to the client and keep a copy for your own reference.
More Goal Setting Worksheets