What Is Bipolar Disorder? Worksheet
Worksheet published on July 19th, 2021
Worksheet updated on May 6th, 2022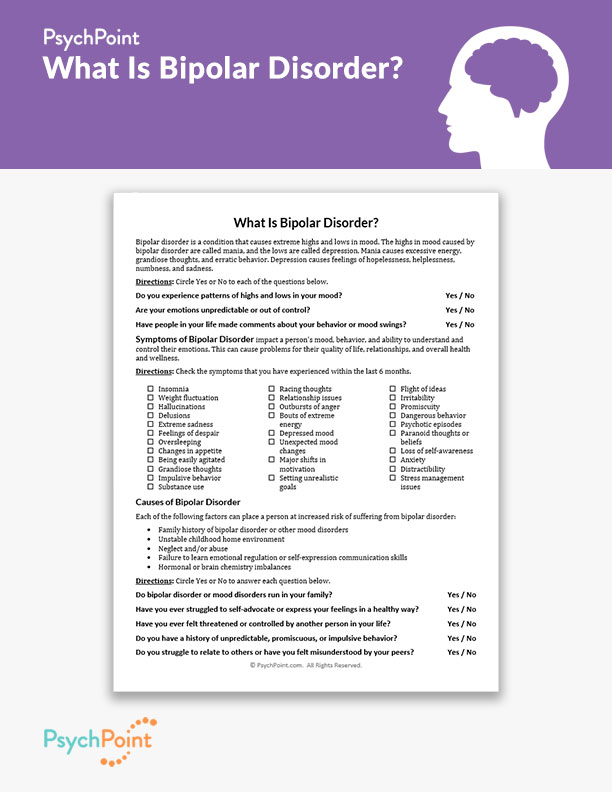 Bipolar disorder is a disorder that can cause extreme highs and lows in mood. It is important for a person with bipolar disorder to understand the condition and how it affects them. With bipolar disorder comes challenging symptoms, but the symptoms can be managed with the right education and expectations.
People who struggle with bipolar disorder will need counseling. They will need to understand how to identify and cope with their symptoms. Education about the condition will be an important step in therapy for people with bipolar disorder.
About This Worksheet
This is the What Is Bipolar Disorder worksheet. This worksheet provides a breakdown of the condition of bipolar disorder. It summarizes the symptoms and causes of the condition, along with information about mood swings. This worksheet is great for adults and adolescents who are struggling with bipolar disorder. It can be utilized in individual and family counseling sessions when dealing with a case of bipolar disorder.
Instructions
Begin by explaining what bipolar disorder is and how it affects a person. Then review the contents of the worksheet with the client.
This worksheet will be most useful to the client if it is completed with the assistance of a therapist or mental health professional. Work through the worksheet with your client and answer questions they have along the way.
Instruct the client to complete the questions and identify their symptoms in the spaces provided. When finished, provide the client with a copy of the worksheet for reference.
More Depression Worksheets