Challenge Your Worries Worksheet
Worksheet published on July 24th, 2017
Worksheet updated on July 20th, 2021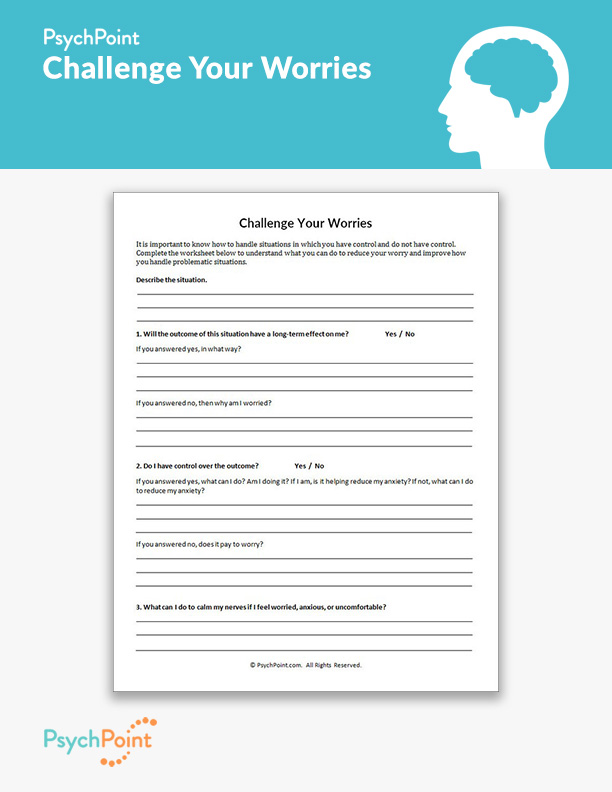 We all know that worrying consumes time and energy, and is a feeling that is often hard to shake. Patients often struggle to cope with worrying, and may not even realize how severely they are affected by their worrying. do not quite understand that they have the power to control how their thoughts affect their tendency to worry.
Dealing with anxiety or stress related to life complications can be difficult, and patients tend to not realize that they have the poser to control how their thoughts affect their tendency to worry. Fortunately, cognitive behavioral therapy offers skills for patients to learn to reduce anxiety and worrying in difficult situations.
About This Worksheet
This is the 'Challenge Your Worries' worksheet. It is a worksheet that incorporates skills from cognitive behavioral therapy to help patients control their anxiety and worrying.
This worksheet incorporates the balance between worry and control to help the patient understand how to control their worrying and improve their coping skills for anxiety. It also helps the patient learn how to rationalize their thinking to prevent further emotional upset.
Instructions
This worksheet asks the patient three questions:
Will the outcome of this situation have a long-term effect on me?
Do I have Control over the outcome?
What can I do to calm my nerves if I feel worried, anxious, or uncomfortable?
With these three questions, the patient is able to break down their thoughts, how they are affecting their worrying and anxiety, and whether there is sound reason to be affected by the situation.
The worksheet then offers a space for brainstorming for the patient to cope with the worrying to help reduce anxiety and promote acceptance for their level of control in the difficult situation. It is also an excellent tool for patients to use on their own, as they learn how to control their anxiety and stress.
More Automatic Thought Record Worksheets