Relationship Gratitude Tips Worksheet
Worksheet published on August 15th, 2019
Worksheet updated on January 3rd, 2021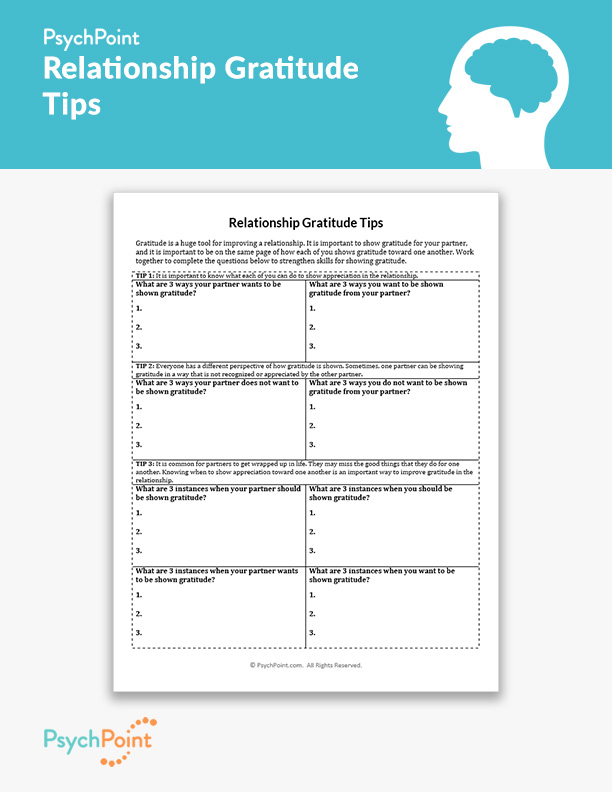 Relationships can be tough, but a couple that is motivated for change and attends couples counseling has a lot of room for growth. It is not uncommon for a couple to struggle with a number of issues. Sometimes an issue that a couple can face is remembering to express gratitude for their loved one. Feeling unappreciated and unloved can cause a lot of tension in a relationship, which is why it is important to incorporate gratitude exercises into couples counseling.
Gratitude exercises can help a couple grow together and learn how to communicate the good things they appreciate to one another. This is instrumental for strengthening the bond in a relationship.
About This Worksheet
This is the Relationship Gratitude Tips worksheet. This worksheet serves as a blueprint to help couples learn how to express gratitude toward one another. Even if the couple is not having issues at the moment, it does not mean they should not still be working to improve their dynamic. A great way to keep momentum going while in couples counseling is learning how to express appreciation for one another.
This worksheet is broken down into 3 relationship gratitude tips. Each tip comes with reflection questions. The reflection questions help the couple learn how to reach one another and how to express gratitude for each other.
This worksheet is great for adults who are struggling with communication and trust in their relationship!
Instructions
This worksheet is to be complete with the guidance of a couples counselor. On the worksheet, there are 3 tips and follow up questions for each tip. Review the introductory instructions with the couple. Then, walk the couple through each tip, asking them to complete the questions along the way.
If a member of the couple gets stuck on a question, take a moment to explore the topic together. Help each member of the couple complete the worksheet to learn how they can express gratitude for one another.
More Gratitude Worksheets