Challenging Anxious Thoughts Worksheet
Worksheet published on August 30th, 2018
Worksheet updated on July 20th, 2021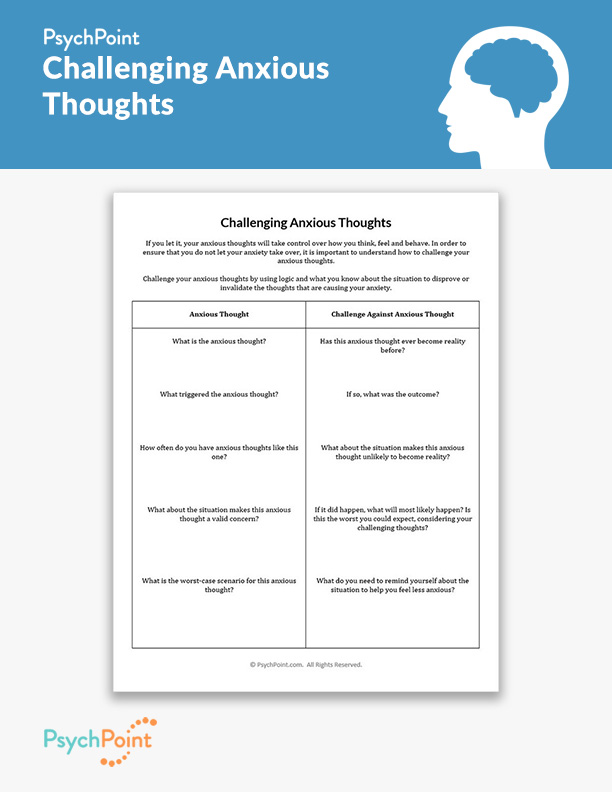 When working toward learning steps to manage anxiety, it is important to learn how to challenge anxious thoughts. Anxious thoughts can stem from anywhere, and can affect a client at any time.
Being sure that your client is well-equipped with coping strategies to manage anxious thoughts will have a major impact on how he or she learns how to control symptoms and manage anxiety.
About This Worksheet
This is the Challenging Anxious Thoughts worksheet. This worksheet teaches a client how to use logic to challenge anxious thoughts. The goal of working through this worksheet is to develop the habit of challenging anxious thoughts with reality and logic.
If the client is able to successfully challenge anxious thoughts, he or she will be able to effectively control racing and negative thoughts that trigger anxiety. The client will notice that in doing so, he or she will lessen the physiological symptoms of anxiety he or she experiences.
Instructions
On this worksheet, the client is instructed to complete 2 columns:
Anxious Thought
Challenge Against Anxious Thought
Each column has four reflection questions that aid in the processing and challenging of the thoughts that are causing anxiety. This worksheet serves well as a homework assignment, or session work for individual and group sessions.
Review the worksheet with your client before assigning it for in-session work or homework. Instruct the client to practice the exercise on their own.
More Stress Management Worksheets