Sleep Diary Worksheet
Worksheet updated on June 21st, 2019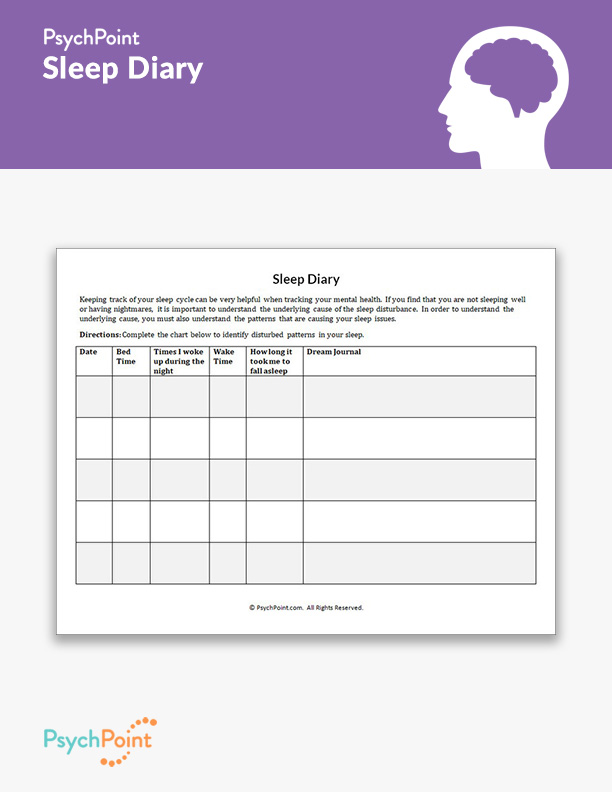 A client's quality of sleep can be very telling when addressing their mental health. Poor sleep patterns or hygiene can be symptomatic of several different conditions, like anxiety, depression, insomnia or PTSD.
If a client is reporting issues with sleeping or recurrence of nightmares, it is important to look closely at the patterns that may be causing the disturbed sleep.
About This Worksheet
This is the Sleep Diary worksheet. This worksheet is an aid for identifying patterns in disturbed sleep. Identifying the patterns will help to identify the causes and contributing factors that are causing the sleep issues.
On this worksheet, the client is asked to keep track of the following:
Date
Bed time
Times the client woke up during the night
Wake up time
How long it took for the client to fall asleep
Dream journal
Each of these components are important to know when working to reduce symptoms of sleep issues and underlying mental health conditions.
Instructions
This worksheet is designed to be a homework exercise for the client to complete for 5 straight days. During these 5 days, the client is instructed to complete each of the 6 questions. At the client's next session, they will review the results with their therapist, to identify patterns that are causing the sleep disturbance.
More Anxiety Worksheets