Thoughts, Feelings & Actions Worksheet
Worksheet updated on January 4th, 2021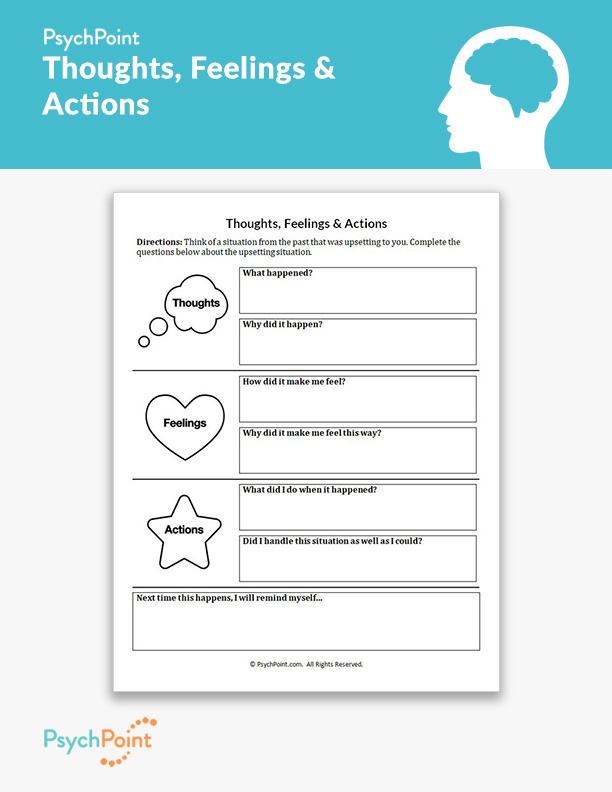 Using methods from cognitive behavioral therapy (CBT) is a great way to help children understand and take accountability for their feelings and actions. CBT helps kids understand their thoughts, feelings and behaviors, which can be instrumental in building self-esteem. It also helps with modifying problematic behaviors.
Helping a child understand their thoughts, feelings and actions will help them take control of their own mental health and teach them responsibility for personal wellness.
About This Worksheet
This is the Thoughts, Feelings & Actions worksheet. This worksheet is broken down into three categories:
Thoughts
Feelings
Actions
Each category is accompanied by 2 reflections questions to help the client learn how to self-reflect on their thoughts, feelings and behavior. This worksheet is a great tool in helping a client take responsibility for themselves and help them grow confidence in themselves to take care of themselves.
Instructions
This worksheet is intended for children up to 12 years old and is best utilized in an individual setting. On this worksheet, the client is asked to recall an upsetting situation. They are asked to answer the following questions:
What happened?
Why did it happen?
How did it make me feel?
Why did it make me feel this way?
What did i do when it happened?
Did I handle this situation as well as I could?
Next time this happens, I will remind myself…
Instruct the client to complete each question in reflection of the upsetting situation. Review the results of the worksheet, explaining the connection between thoughts, feelings and resulting actions. Encourage the client to keep this exercise in mind the next time they are confronted with an upsetting situation.
More Automatic Thought Record Worksheets