Daily Mood Journal Worksheet
Worksheet published on October 3rd, 2016
Worksheet updated on July 20th, 2021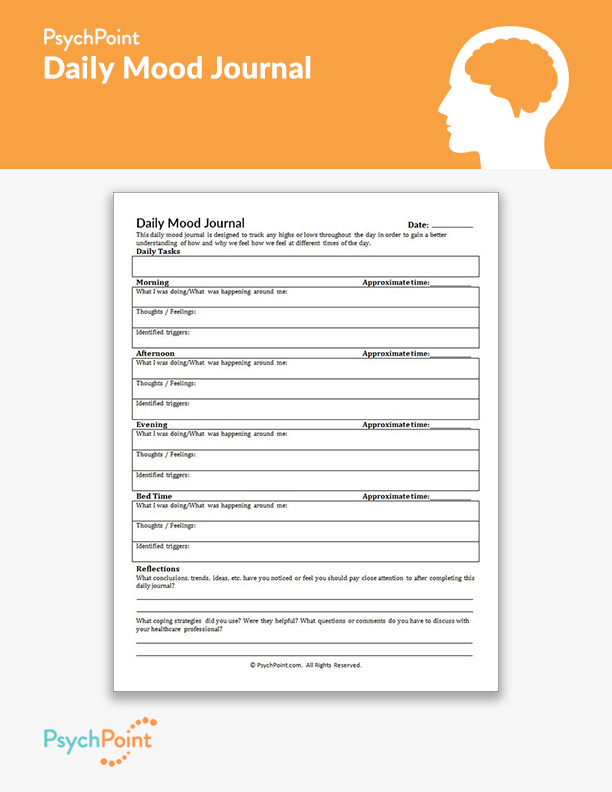 Patients often have a pattern of how their mood affects them. Throughout the day there are certain triggers based on responsibilities, encounters, etc. that may cause a patient's mood to fluctuate.
It helps a patient prepare for triggers when they are aware of when and where they are likely to encounter a trigger, along with the coping strategies to use to manage the trigger. Of course, we cannot always predict when we will encounter our triggers, but sometimes it helps to learn about and be prepared for those patterns.
About This Worksheet
This worksheet breaks down the patient's day into morning, afternoon, evening, and nighttime occurrences. It helps the patient reflect on their mood and what is influencing the mood, along with laying out an emotional blueprint to help identify patterns in the way they react to certain places, people, or situations.
Instructions
For each part of the day the patient is asked to record their feelings, thoughts, responsibilities, and identified triggers they have faced in order to understand how their mood is influenced by their external surroundings and internal systems. At the end of the worksheet the patient is asked to record a reflection of how their coping skills worked, what could be improved, and any questions or comments they have to talk about with their healthcare professional.
More Emotions Worksheets