Cognitive-Behavioral Model Worksheet
Worksheet updated on July 20th, 2021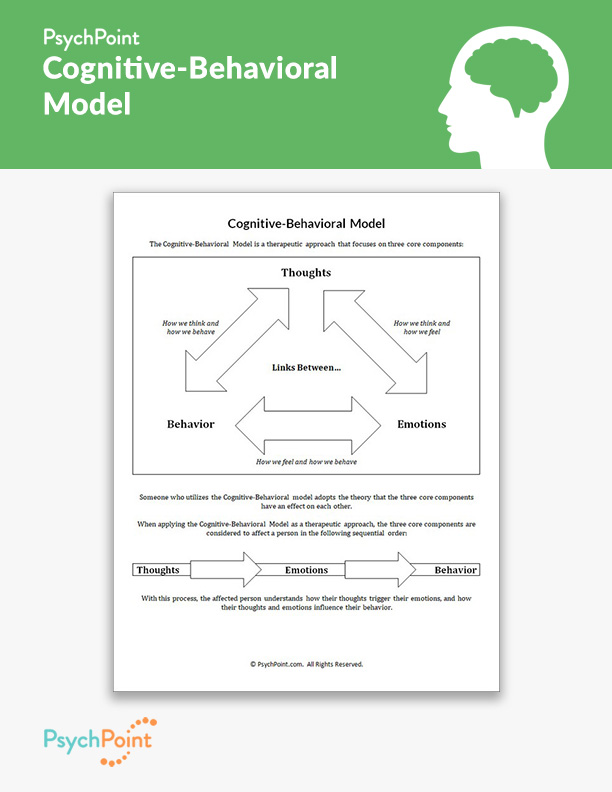 The Cognitive-Behavioral model is used in cognitive-behavioral therapy (CBT). It is a model used to explain the process of how CBT works and how it is helpful to utilize while in counseling.
Often clients struggle to understand the meaning behind concepts in CBT, so it is helpful to have a visual aid that explains the process of CBT and how it can relate to the client while in therapy.
About This Worksheet
This is the Cognitive-Behavioral Model worksheet. On this worksheet, you will find a combination of information and diagrams to explain the process of CBT.
On this worksheet, the cognitive-behavioral model is simplified, as it breaks down the three core elements: thoughts, emotions and behavior. The worksheet illustrates how each are connected and how they are approached in CBT.
Instructions
This worksheet is intended to be utilized as a reference to help clients understand how CBT works.
On the worksheet, you will find an explanation of the 2 diagrams provided, and how they relate to the therapeutic approach used in therapy sessions. Use this worksheet as a way to explain the concept and process of CBT to your client. Help the client identify with the process and how it will affect him or her by explaining the process as it relates with the client's presenting problem. Provide a copy of this worksheet to the client, so it can be used as reference between therapy sessions.
More Behavior Worksheets