Introduction To Stress Management Worksheet
Worksheet updated on January 4th, 2021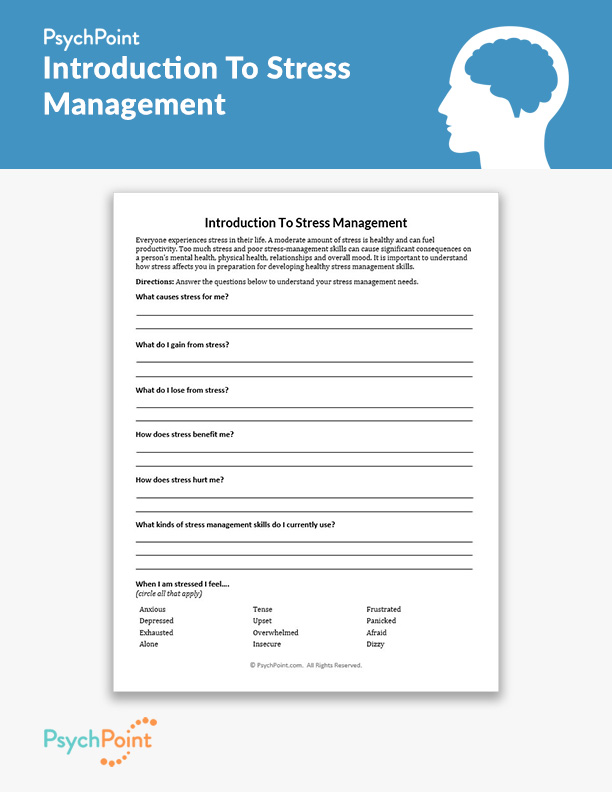 Stress is a natural part of life. Everyone experiences stress, and everyone is affected by stress in different ways. It is important to know how to manage stress. When you do not know how to manage your own stress, you face consequences like anxiety, depression and sleep issues.
The first step to learning how to manage your own stress is to understand how your stress affects you.
About This Worksheet
This is the Introduction to Stress Management worksheet. This worksheet serves as an introduction to learning stress management. The worksheet focuses on what the experience of stress is like for the client. It also asks about current coping skills for stress.
This worksheet serves as a great first step for adolescents and adults who are developing healthy stress management skills. Use of the worksheet is ideal for individual and group sessions.
Instructions
Review the introductory paragraph with your client. Then, instruct the client to complete the 7 reflection questions. When complete, review the reflections with the client. Determine the positive and negative ways stress affects them and their current beneficial and harmful coping strategies.
Ensure that the client understands how their stress affects them and why proper stress management skills are important.
More DBT Worksheets