Self-Care Assessment Worksheet
Worksheet updated on January 10th, 2022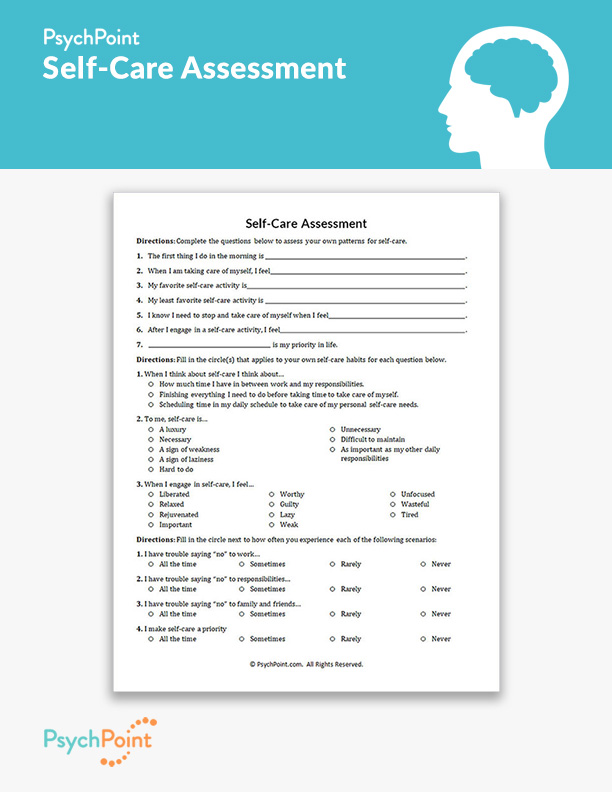 Practicing effective self-care techniques is a very important part of mental health. Without self-care, people cannot grow and learn how to cope with the stress of their daily lives. It is particularly important to practice self-care when struggling with mental illness. This is because self-care helps to promote skills to maintain good coping strategies and mental health.
Self-care is important but can be forgotten as a priority when struggling with stress or mental illness. A great way to begin the conversation about self-care is to introduce a self-care assessment to a client in therapy.
About This Worksheet
This is the Self-Care Assessment worksheet. This worksheet serves as a means to assess a client's understanding of what self-care means, and their motivation to incorporate self-care into their lives. The Self-Care Assessment worksheet can serve as a visual for how a client prioritizes themselves in their lives. It also helps them identify the self-care practices that work best for them.
This worksheet provides three sections of self-care questions for the client to answer. It serves as a baseline for taking the steps to explain the importance of self-care and the skills needed to begin incorporating self-care into their daily routine.
The Self-Care Assessment worksheet can be a great tool for adults in individual, group, or family counseling. It can be helpful for people who are struggling with anxiety, depression, and stress at work, school, or home. It can also be helpful for those who are struggling with self-esteem and relationship issues.
Instructions
This worksheet consists of self-care questions that are divided into 3 sections. Each section is used to help the client learn about how they prioritize self-care. Explain why self-care can help the client feel better and manage their day-to-day stressors. Answer the questions they have about the exercise. Then, instruct the client to complete the questions provided on the worksheet.
Once the worksheet is complete, review the results with the client. Reflect on the client's definition of self-care, why they think self-care is important, and their motivation to promote self-care in their day-to-day lives.
Develop a plan of action to incorporate self-care skills into the client's daily routine. Provide them with a copy of the worksheet for reference.
More Emotional Intelligence Worksheets