Suicide Warning Signs Worksheet
Worksheet published on December 8th, 2021
Worksheet updated on May 6th, 2022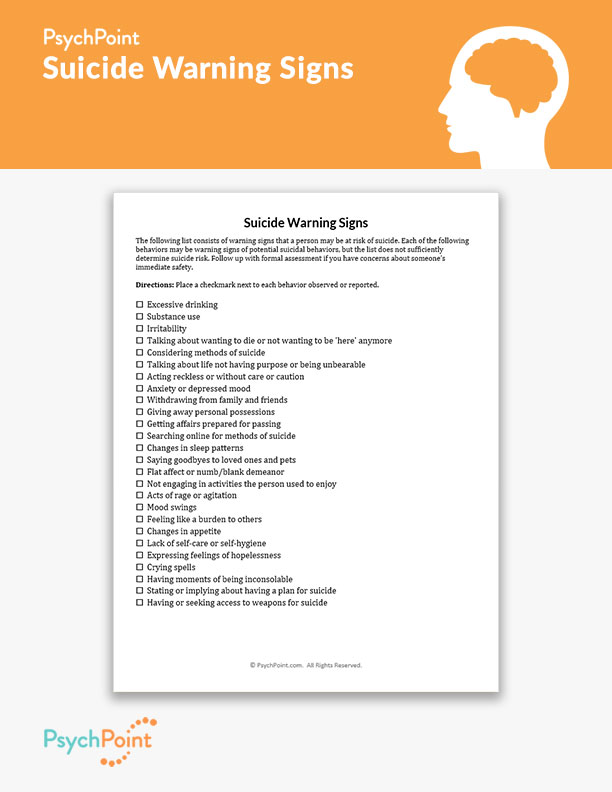 It can be scary to think about, but people deal with suicidal thoughts, which should always be taken seriously. Sometimes suicidal thoughts are just thoughts, and sometimes people have suicidal thoughts but know that their motivation is to overcome life's challenges and not self-harm. Sadly, some people have suicidal thoughts and are at risk of acting on those thoughts.
People who are thinking about committing suicide feel hopeless. They believe that they have nowhere else to turn, and their best option is to end their life. People who are suicidal do show warning signs of suicide. Knowing the signs of suicide can help prevent someone from committing suicide and get the help they need.
About This Worksheet
This is the Suicide Warning Signs worksheet. This worksheet provides a list of warning signs that a person may be considering or planning to commit suicide. The list of warning signs can be helpful when learning about suicide risk, but it is not a tool that definitively determines a person's risk of suicide. It should not be used as a formal assessment.
Instructions
This worksheet is a tool to help with identifying behaviors associated with the risk of suicide. It is to be completed by a mental health professional to help understand the client's position and potential risk for suicide. It should not take the place of a standard risk assessment.
Review the list with the client. Place a check next to the behaviors that you have observed or the client has reported engaging in or experiencing. Review the results with the client and consider the best course for the next steps to ensure the client's safety.
More Behavior Worksheets