Safety Plan Worksheet
Worksheet published on December 7th, 2016
Worksheet updated on June 16th, 2021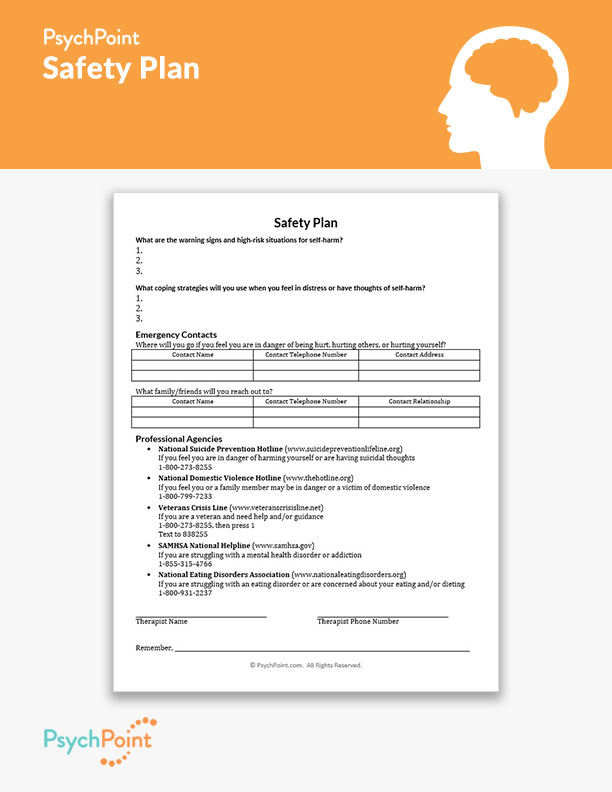 One of the most important things we do as therapists are screen our patients for indicators that their safety may be compromised. As professionals, we do this to make sure our patients stay safe between sessions. 
While not every patient will require safety planning, therapists must be mindful of safety issues and know how to properly create a plan for those who are struggling more than others. 
Whether the patient is struggling with depression, anger, eating disorders, substance use, family issues, abuse, or suicidal ideation, we must make sure our patients are safe and know what to do if they find themselves in a high-risk situation.
We as professionals are trained to screen our clients for such potential risks. When we have that patient in front of us that worries us, we develop a safety plan. Safety plans are important because they make a plan for both therapist and patient in the event of a dangerous or high-risk situation. A safety plan helps to ensure that a patient knows what to do to take care of themselves, even when they cannot easily get in contact with their therapist.
About This Worksheet
This is the Safety Plan worksheet. This safety plan is generalized to fit different kinds of situations. It asks the patient to identify the high-risk situations and warning signs. It also provides a space for the patient to list the coping strategies that the patient will use in high-risk situations or when struggling with triggers for negative thoughts and destructive behavior. Most importantly, this worksheet provides a list of resources and places to call in the event of an emergency.
This safety plan worksheet can be used for adolescents and adults who are struggling with relapse prevention, self-harm, suicidal ideation, and other high-risk issues. It is intended to be used in individual settings.
Instructions
The safety plan worksheet must be completed with the therapist and patient working together. Make sure both the patient and therapist have a copy, and that the safety planning is documented. Instruct the patient to keep the copy where it will be easily accessible in case of emergency.
This worksheet provides a space to list names and phone numbers of emergency services in their area. It can be helpful to research the emergency services in the patient's residential county, along with other mental health services that may be useful to them if needed. Be sure to complete the safety plan by providing your full name, credentials, and phone number. 
More Therapy Worksheets