Intervention Checklist
Worksheet published on January 18th, 2017
Worksheet updated on June 27th, 2019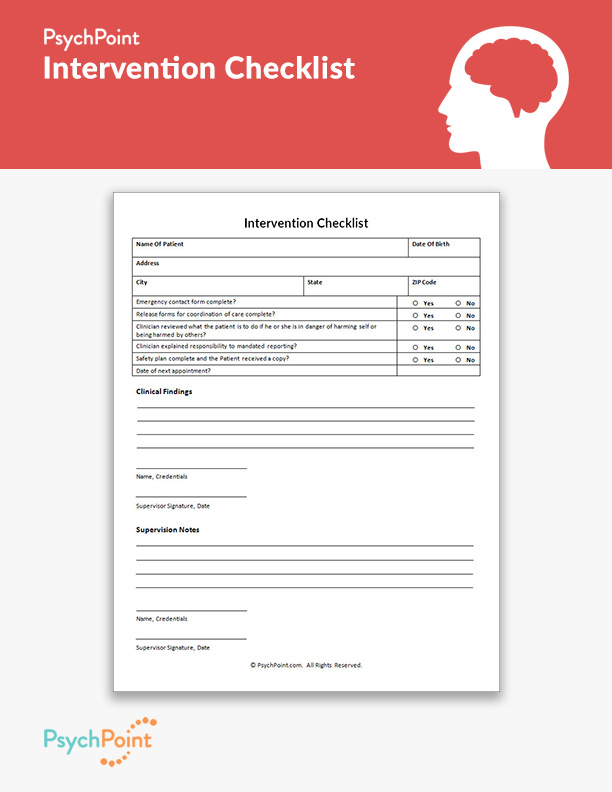 When we are confronted with a situation in which a patient is expressing to us that he or she is in danger of causing harm to himself or herself or is in danger of being harmed by someone it is important that as clinicians we do all we can do to keep our patient safe.
There are many things to consider when confronted with such a situation and while every situation must be handled delicately and on an individual basis, there are tools that you can use to ensure that you do all you can do for your patient.
About This Worksheet
This is an intervention checklist. It is a tool to use when you are confronted with a situation in which you are dealing with a patient who has expressed suicidal ideation, intention to harm himself or herself, or concerns of abuse, domestic violence, or other dangerous situations.
On this worksheet you are provided with a set of components to help develop a plan for intervention. The checklist will ensure that you have prepared your patient with all of the essential information and resources needed to ensure their safety.
Instructions
This is an intervention plan checklist of all that you have provided the patient with all he or she will need to stay well: a safety plan, appointment date, and a verbal briefing of protocol and mandated reporting.
There are also two checkpoints to remind the clinician to obtain all necessary release forms and emergency contact forms before the patient leaves the office. Finally, there is a space for clinical findings and supervision notes, where you can record a review of your interventions and plans for future treatment, along with supervisor approval and notes.
More Therapy Worksheets