Panic Assessment Worksheet
Worksheet published on October 29th, 2018
Worksheet updated on May 1st, 2022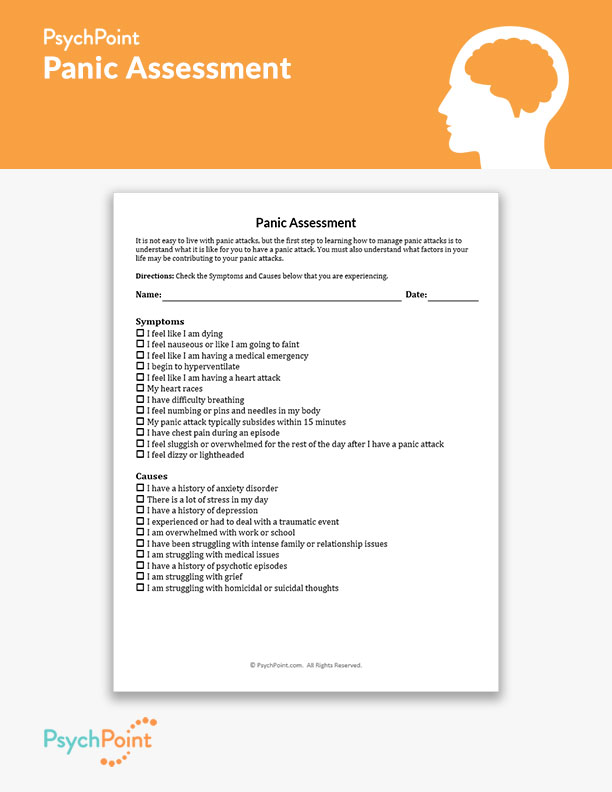 Panic attacks are very difficult to go through, and it is not uncommon for a person to have a panic attack without even realizing it is a panic attack. Panic attacks cause many alarming symptoms that can be disguised as other conditions.
It is important for a person to be able to determine whether or not they are experiencing a panic attack. Once they know they are experiencing panic attacks, they can take the steps to learn how to manage their anxiety to reduce the prevalence and severity of the attacks.
About This Worksheet
This is the Panic Assessment worksheet. This worksheet serves as the first step toward learning how to control and reduce the severity of panic attacks. On this assessment the client will learn the symptoms and causes for panic attacks, and learn how to identify their own symptoms and causes.
This serves as the first step toward being able to reduce the frequency and severity of panic attacks. Once the client understands how and why they experience panic attacks, they can begin to learn strategies to cope and take control over the recurrences.
Instructions
This worksheet provides two checklists for symptoms and causes associated with panic attacks. Have the client complete the checklists. Then review the results with the client.
This will serve as a base point to help the client understand their own anxiety and panic attacks. It will also be the client's first step in learning how to cope with panic attacks.
More Behavior Worksheets