Tips For Avoiding Relapse Worksheet
Worksheet published on September 5th, 2023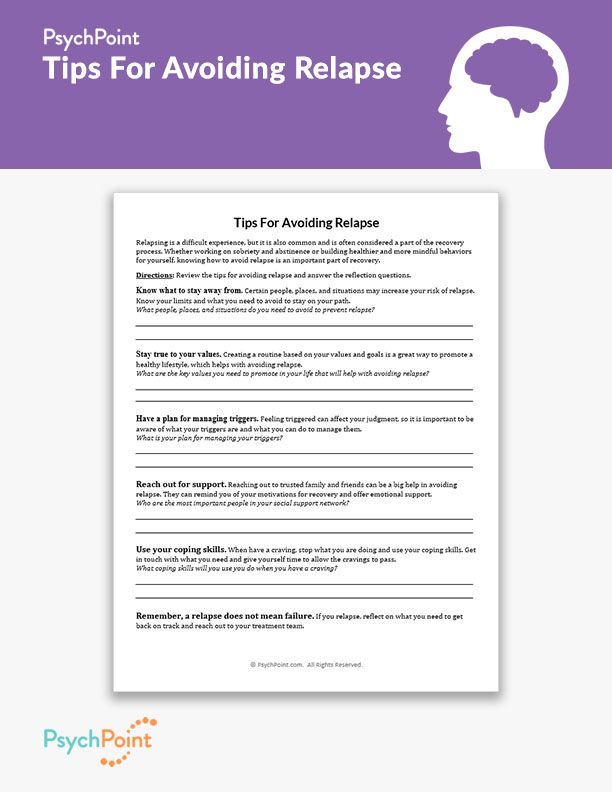 Avoiding relapse is an important part of recovery. A relapse is difficult for a person to cope with, but when they are equipped with the proper tools, they can avoid relapse and stay on a path that promotes a healthy life.
People in recovery work hard to achieve their goals- whether for sobriety, abstinence, anger management, or a healthier lifestyle. It is important for mental health professionals to prepare their clients for relapse and to ensure that they have the tools they need to avoid relapse when feeling triggered.
About This Worksheet
This is the Tips For Avoiding Relapse worksheet. This worksheet provides helpful tips for avoiding relapse, along with reflection questions to personalize how each tip can be used by the client. It is a great tool for people who are in recovery or coping with a recent relapse.
Adults and adolescents who are working on relapse prevention can benefit from this worksheet. It can be used in individual and group counseling sessions.
Instructions
Introduce this worksheet and explain how it can help when faced with high-risk situations for relapse. Review each of the tips with the client and provide your insight into how each tip can be helpful for them to avoid relapse.
When you are confident that your client understands the tips for avoiding relapse, allow them time to answer the reflection questions. You may offer your guidance as needed. Review the client's responses and use the worksheet as a tool for developing a plan for avoiding relapse. Provide the client with a copy of the worksheet for reference.
More Substance Use Worksheets