Daily Mood Chart Worksheet
Worksheet published on November 2nd, 2016
Worksheet updated on June 27th, 2019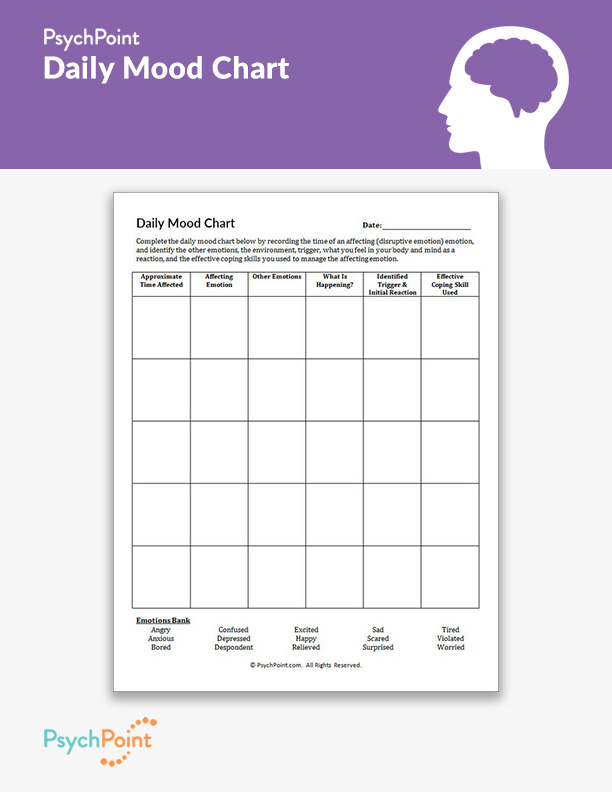 When we are struggling with understanding our mood and emotions it helps a great deal to use a mood journal to keep track of daily activities, triggers from the day, and how we managed out feelings.
Sometimes we get caught up in the day and forget to focus on what we are feeling, which causes us to miss important indicators of our emotions and when to use our coping skills.
About This Worksheet
Daily mood charts are an excellent way for patients who are learning to understand their emotions, moods, feelings and behavior. Sometimes when patients begin therapy it is difficult for them to really understand how their triggers and emotions affect them.
With daily mood charts the patient can learn to identify, regulate, and be prepared for their mood fluctuations when confronted with their triggers.
Instructions
This daily mood chart is designed to help the patient identify their affecting emotion, other emotions, and their reaction to their environment. The patient is first asked to record the time they initially felt the affecting emotion.
Then the patient records the affecting emotion, other emotions they are feeling (which will help with understanding primary and secondary emotions and how they trigger the affecting emotions), what is happening around them, the trigger and their initial reaction, and the coping skill they used to feel better in the situation. This mood chart is great for patients who are learning to regulate their moods and is particularly helpful for CBT and DBT modalities.
More Emotions Worksheets