Recipe For Happiness Worksheet
Worksheet updated on June 25th, 2019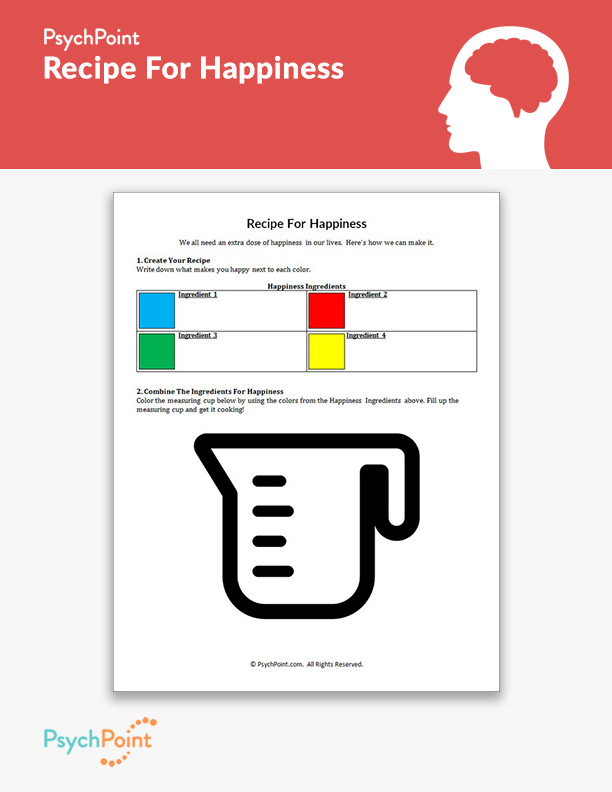 When we are kids, we have a good grasp of what it means to experience those staple emotions: Happy, sad, angry, excited, etc. We learn about emotions slowly, what they mean, and how to manage them. As we develop, our brain expands, and our understanding of emotions and how we feel becomes more complex.
For many children, it can be hard to make sense of how they feel, and how to regulate and express their emotions in a healthy way. That is why it is important to teach children how to be self-aware about how they feel.
About This Worksheet
This is the Recipe For Happiness worksheet. This worksheet helps teach emotional regulation to children by helping them understand what it means to feel happy. It helps a child feel in control of their own ability to feel happy, and to develop a plan or blueprint of what things in their own life help them feel this way.
This worksheet is a great exercise to teach a child about how they feel, what makes them happy, and how they can be proactive and autonomous when working to create their own happiness.
Instructions
This worksheet has two steps.
The first step is to complete the key. Have the child fill in four "ingredients" that make them happy- one ingredient for each color.
The second step is to instruct the child to fill up the cup by coloring it in with each color. On the measuring cup you will see 4 lines. Have the child begin at the bottom, filling the cup up to the first line with one color, then repeat with the other 3 colors.
Be sure to complete this exercise with the child and have an open conversation about what it means to be happy, and how each of the ingredients they chose makes them happy. This will encourage the client to feel comfortable expressing how they feel and what it is like when they are feeling happiness.
More Anger Management Worksheets