Signs Of Burnout Worksheet
Worksheet published on August 9th, 2023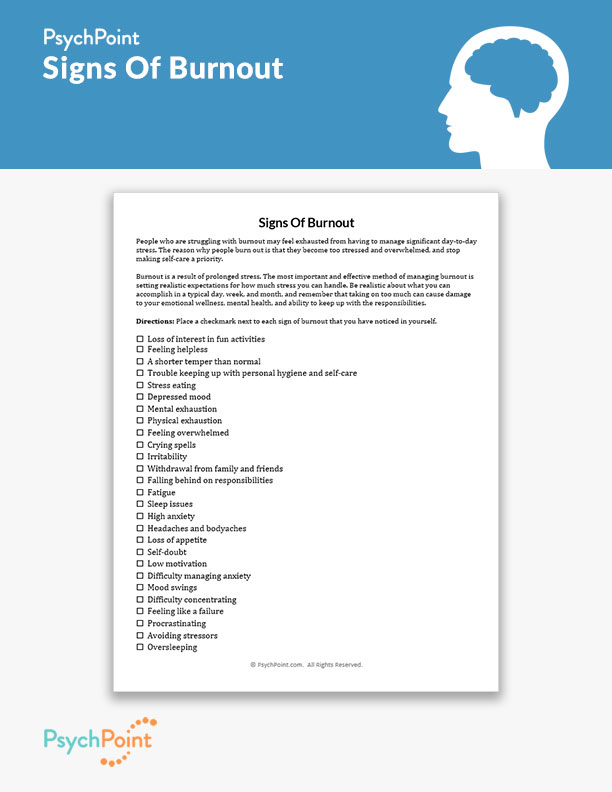 Burning out is normal- we all burn out sometimes. It is a form of prolonged stress and is most often applied to someone who is overworked with little opportunity breaks or recovery time. The stress that leads to burnout could come from work, school, home, or in other areas of life.
Over time, stress can wear on the body and mind, causing careless mistakes, fatigue, and mental exhaustion. To prevent and manage feelings of burnout, you must know the warning signs and address them before they become too overwhelming or unmanageable.
About This Worksheet
This is the Signs Of Burnout worksheet. This worksheet provides a list of burnout warning signs that are commonly experienced by people who are overwhelmed with stress. Without knowing the warning signs of burnout, a client may not be able to take measures to prevent burnout before it becomes too overwhelming for them.
Having a list of warning signs can help ensure that the client has tools to identify early signs of burnout, so they can address them and resolve them before they get too intense. The Signs Of Burnout worksheet can be helpful for adolescents and adults who are struggling with stress management. It can be used in individual and group counseling settings.
Instructions
This worksheet provides a list of 27 signs that people tend to experience when they are feeling burnt out. It also provides a brief explanation of what burnout is and how it can affect a person if the signs are ignored, not properly identified, or not effectively addressed and resolved.
Introduce this worksheet by providing a brief overview of what burnout is and how it affects a person's ability to cope with stress and responsibilities. Then, have the client check off each sign of burnout they experience.
Reflect on the results of the worksheet with the client. Use this worksheet as an aid in preparation to learn coping skills to manage stress and feelings of burnout. Provide the client with a copy of the worksheet for reference.
More Anxiety Worksheets