Positive Experiences Worksheet
Worksheet published on December 13th, 2016
Worksheet updated on July 20th, 2021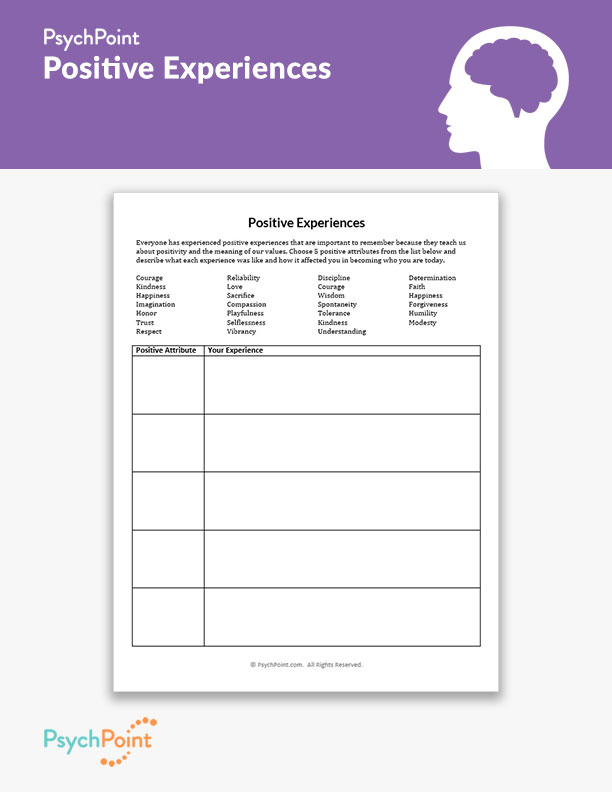 When we are confronted with patients who are fixated on the negative it is difficult to break away from the bad and shift focus on the good. Often we will have a patient who does not acknowledge anything besides the negative in his or her life which not only is detrimental to their overall health, but is also extraordinarily difficult to break. An effective way to combat the focusing on the negative is to force the patient to bring out and talk about the positive.
About This Worksheet
This worksheet asks the patient to do just that as it asks the patients to recall positive experiences in their lives. Focusing on the positive serves two major purposes: it forces the patient to acknowledge that they have and can again experience positivity in life.
This teaches them to challenge their overall negative core beliefs of themselves, their world, and their future.
Instructions
The instructions for this exercise are simple. The patient is asked to choose from a word bank a positive attribute in his or her life and recall an experience in which they experienced what it meant to them.
To continue to strengthen the influence of the exercise the therapist is encouraged to ask follow up questions such as "what did this experience mean to you? What does it mean about you that you experienced this attribute? When would it be helpful to remind yourself of this experience and what it taught you about yourself and your world?" Etc.
More Grief Worksheets