Looking Back, Looking Forward Worksheet
Worksheet published on March 14th, 2019
Worksheet updated on July 17th, 2021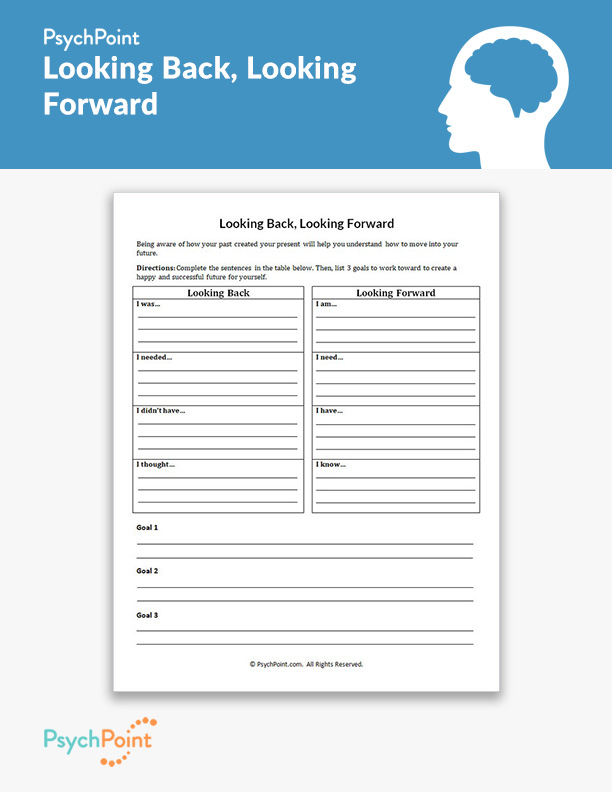 It is not uncommon for a person to get stuck on the past, present or future. Each frame of time is important to consider when planning goals or the best way to move forward with life. When a person focus too much on the past they can get stuck because they don't know how to use the past to move forward.
That is why it is important to give both the past and the future the attention they need to understand how one affects the other.
About This Worksheet
This is the Looking Back, Looking Forward worksheet. This worksheet provides a creative exercise to reflect on the past, present and future in a constructive way.
The worksheet is divided into 3 portions:
Looking back
Looking forward
Goal planning
In completing the worksheet, the client learns how to reflect on the past, develop an understanding how they ended up in their present condition, and what they need to do for a bright future.
Instructions
Before instructing the client how to complete the worksheet, explain the how understanding each element is instrumental in planning for the future. Instruct the client to complete each question in the 2-column sentence completion with one sentence, beginning with the Looking Back column.
After the columns are complete, instruct the client to reflect on the results to create 3 attainable goals for the future.
This worksheet is great for group settings. It can also be useful for individual counseling. The worksheet is suitable for adolescents and adults.
More Positive Psychology Worksheets