What Is Mindfulness? Worksheet
Worksheet published on March 6th, 2023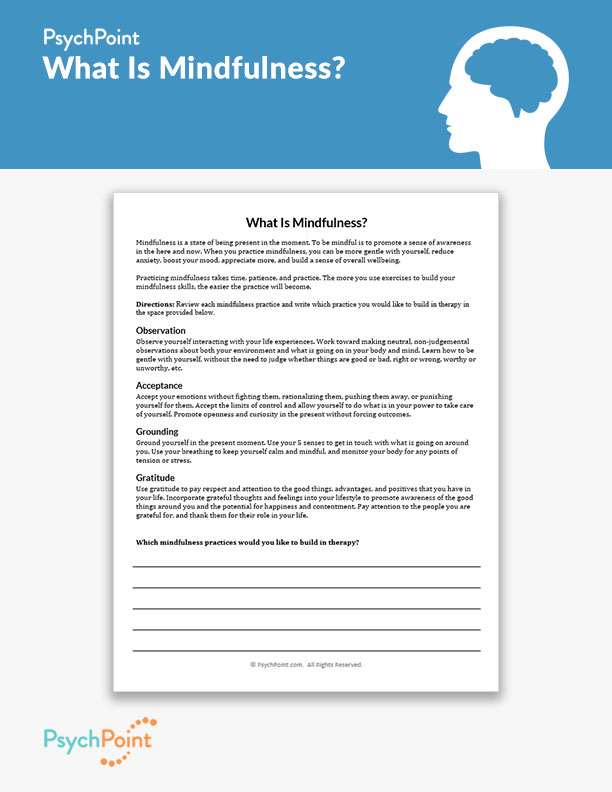 A pivotal part of therapy is learning coping skills. Coping skills are what a client will use to build a sense of authority over their mental health. Coping skills help clients learn how to manage their symptoms and develop healthier ways of thinking, feeling, behaving, and living.
Mindfulness offers many different types of helpful coping skills. It is the practice of being present and aware without judgment. To be mindful is to be present, without thinking about what you should be doing, focusing on the negative, or looking at what is lacking. Practicing mindfulness skills can help a client significantly improve their overall mental health.
About This Worksheet
This is the What Is Mindfulness worksheet. This worksheet provides a summary of what mindfulness is and how it is used in therapy. The What is Mindfulness worksheet offers brief descriptions of the different practices of mindfulness and how they can help a client improve their overall mental health.
This worksheet can help adolescents and adults struggling with stress, anxiety, depression, and other mood disorders. It can be utilized in individual and group counseling sessions.
Instructions
Review the definition of mindfulness with the client and explain how mindfulness is used to help people boost their mental health. Review each type of mindfulness practice with the client and offer your own insight on how each can be useful.
Allow the client time and space to review the mindfulness practices on their own. Then, instruct them to complete the reflection question. Review the results with the client and work with them to make a plan to incorporate mindfulness practices into their routine.
More Therapy Worksheets