Protective Factors Worksheet
Worksheet updated on January 3rd, 2021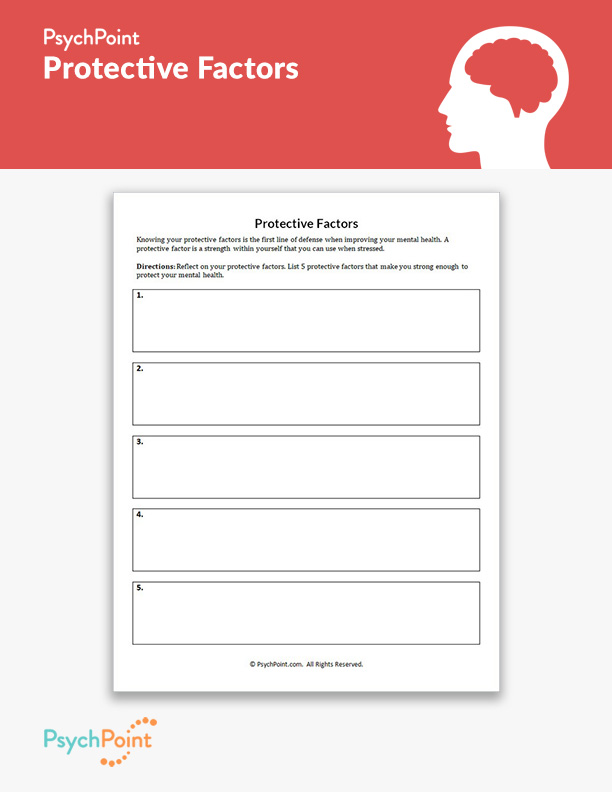 When dealing with a client who is struggling with self-confidence and low self-esteem, it is important to ensure that they are aware of their protective factors.
Knowing your own protective factors is important. Protective factors serve as a source of strength, hope and comfort when dealing with a challenge. Sometimes a client is not aware of their own protective factors. Bringing their protective factors to their attention is a great way to boost confidence and self-reliance.
About This Worksheet
This is the Protective Factors worksheet. On this worksheet, the client is given the space to explore their own protective factors. These protective factors can include:
Skills
Support systems
Abilities
Coping strategies
Lessons from previous experiences.
Each of these factors can be instrumental in teaching a client how to cope with stress, anxiety, depression, relapse issues, life challenges and relationship issues.
Instructions
This worksheet is great for adolescents and adults who are struggling to cope with triggers and life stressors. On this worksheet, the client is instructed to brainstorm 5 of their own protective factors that make them strong.
Explain the importance of the worksheet with the client and instruct them to complete the worksheet on their own. When complete, review the results with the client. Reflect on how each factor will be utilized to maintain mental wellness.
This worksheet can be used in individual therapy, couples and family counseling, and group therapy.
More Emotions Worksheets