Challenging Negative Thoughts Worksheet
Worksheet published on March 22nd, 2017
Worksheet updated on July 20th, 2021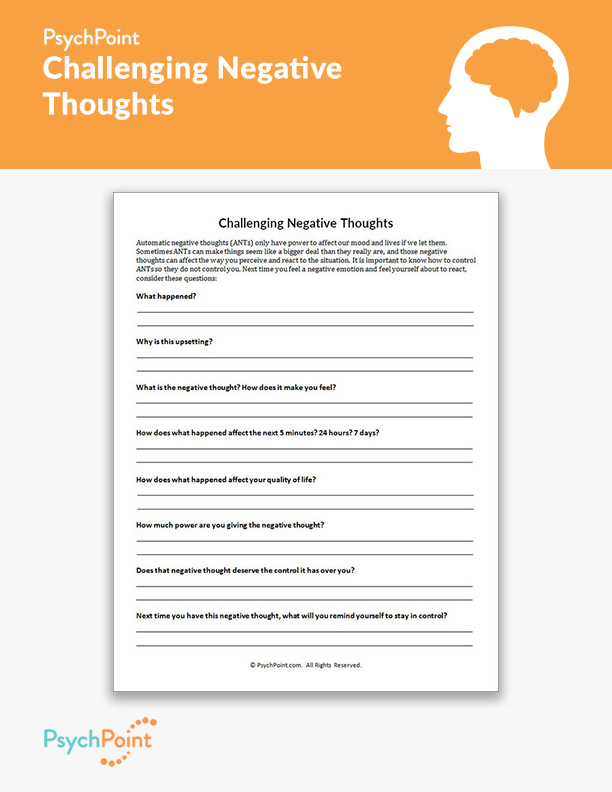 Therapists who are trained in cognitive-behavioral therapy (CBT) find value in teaching their clients how to deal with automatic negative thoughts (ANTs). ANTs are huge catalysts for negative behavior like lashing out at others and self-destructive habits. They also cause negative emotions and hurt feelings that may not be fair to the client. ANTs can negatively impact a person's relationship with others and with themselves, so it is important for a client to understand what an ANT is and how it affects them.
If a client can identify and understand how ANTs can affect their perception of a situation and how it affects their life, they can reduce the intensity of negative emotions and behavior. ANTs can be tricky patterns of thought to identify and challenging, but developing this skill can be an asset to the betterment of a client's mental health.
About This Worksheet
This is the Challenging Negative Thoughts worksheet. This worksheet consists of a list of questions the client can ask themselves when confronted by an adverse situation. Adverse or challenging situations trigger ANTs, and they can cause a spiral of negativity that affects their ability to handle the situation effectively.
Negative situations trigger ANTs, and those ANTs can cause clients to interpret a situation as more hurtful than it is. This tendency causes reactivity and a bruised sense of self-esteem. The reactivity causes consequences for the client that they may not need to experience. If the client can slow down and analyze how they are affected by the situation, they will be able to create a more balanced conclusion. This helps to prevent reactivity and emotional outbursts or self-defeating thoughts.
This worksheet can be helpful for adults who are dealing with emotional or behavioral issues. It can be used in individual and group settings that teach CBT skills. This worksheet can be applied to people struggling with different issues, including:
Anxiety
Depressed mood
Borderline personality disorder
Bipolar disorder
Relationship issues
Self-esteem issues
Stress
Mood swings
Trauma
Social anxiety
Instructions
The Challenging Negative Thoughts worksheet consists of an information paragraph followed by self-reflection questions. The self-reflection questions are geared toward having the client look at the situation objectively and consider the external factors that are contributing to the ANTs.
This worksheet walks the client through the consideration process of whether the situation is worth the intense negative emotions they are feeling. By answering these questions, the client learns to look at things objectively and consider the consequences before reacting.
It is important for a client to be introduced to this worksheet with the guidance of a therapist. A therapist can help to explain what an ANT is and how it can affect a person. They can also help guide the client through the list of questions and explain how the questions help to challenge ANTs. Background knowledge in CBT will be needed when explaining the process of this worksheet.
Clients can be encouraged to carry the list of questions with them for reference when they start to feel intense negative emotions.
More Therapy Worksheets