How To Create A Mantra Worksheet
Worksheet published on January 9th, 2018
Worksheet updated on January 4th, 2021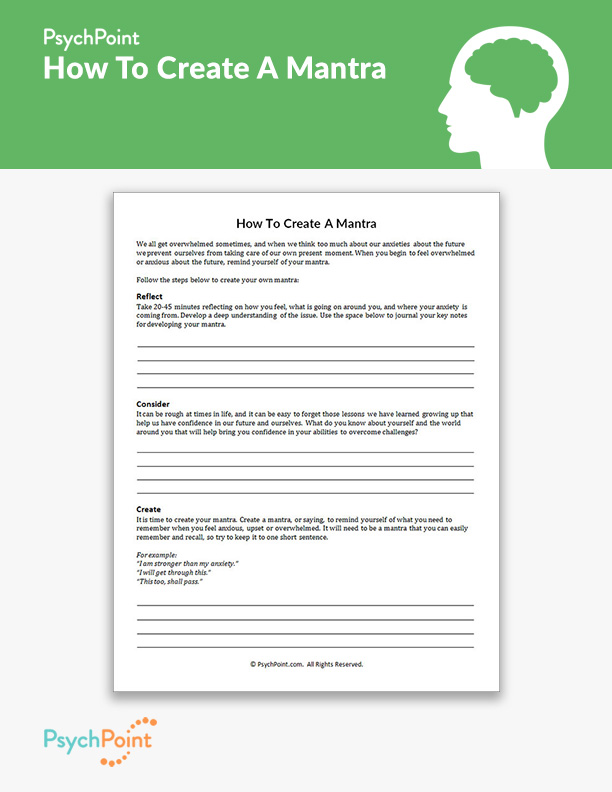 Creating mantras is a great way to help your client learn how to cope and self-soothe when going about their day-to-day life. A mantra is a saying or phrase that is created and used by a person in times of distress, discomfort, sadness or anger. Mantras derive from meditative practices and have been found to bring significant comfort to clients who struggle with life stress.
About This Worksheet
This is the How To Create A Mantra. It is a step-by-step guide to help clients learn how to create their own mantra and how their own unique mantra is important to them. The worksheet provides three simple steps to help develop a mantra to use in times of his stress or tension.
The three steps also provide the client with instructions on how to best explore their inner feelings to learn what they most deeply need to hear when they need to self-soothe.
Instructions
This worksheet is an excellent exercise for group sessions. To begin with this worksheet, it is important to explain what a mantra is- a short phrase or saying that reminds you that you are safe, well, and able to overcome the challenge you face. After you have explained what a mantra is, have your client work through the 3 steps.
They may need help along the way, so be sure to work with the clients and provide suggestions as they go through the process. Instruct the clients to memorize their mantra and use it when they are feeling anxious, overwhelmed or upset.
More Sleep Worksheets