Wheel Of Emotions Worksheet
Worksheet updated on February 11th, 2022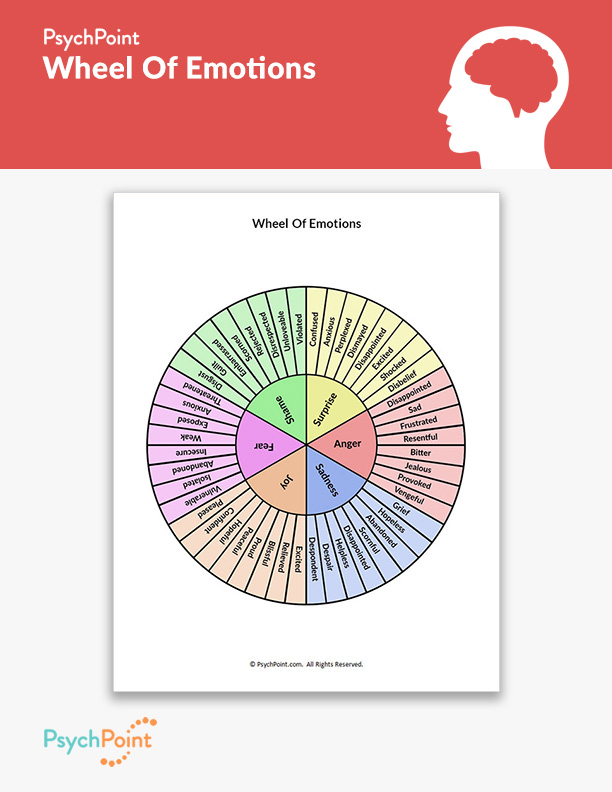 Emotions can be challenging to understand. Sometimes they have concrete reasons for being felt, and sometimes we are not sure why we are feeling a certain way. When we feel emotions we do not understand, we can struggle to understand how to cope.
People who struggle to understand how to identify and cope with their emotions often struggle with anxiety, self-esteem and reactivity to stress. Because emotions can affect us in different ways, being able to express how we feel in a healthy way requires the ability to sit with the discomfort that emotions can cause and find the root of the feeling.
An important part of learning how to cope with your emotions is learning how to understand them. It is not uncommon for people to feel different emotions at the same time and not understand why. Emotions can come from several different situations and issues. They can occur at different intensities and affect each person differently.
When people don't understand what is fueling their emotions or how they are connected, they cannot understand what is needed to appropriately manage how they feel. 
Teaching a client how to identify their emotions is an important part of the therapeutic process. It is also important to help the client understand that some emotions can be felt at the same time.
About This Worksheet
This is the Wheel of Emotions worksheet. On this worksheet, there are a total of 54 emotions. The emotions are broken down into two categories:
Basic emotions
Related emotions
The Wheel of Emotions worksheet organizes 48 related emotions to help the client understand how they are feeling in relation to the 6 basic emotions:
Shame
Surprise
Anger
Fear
Joy
Sadness
With this worksheet, the client can learn about how their deeper emotions are connected to the emotions they are feeling in the moment. They can also learn how people are capable of feeling more than one emotion at once. From there, they can learn how to be in touch with their own needs and feelings.
Understanding feelings helps clients learn healthier ways for managing emotions. They can also learn how to control their emotions so they are less intense.
This worksheet is an excellent worksheet to use when teaching emotional intelligence. It can be helpful in many different therapeutic settings and can be applied to many different situations a client may face. This worksheet works well with adolescents and adults. It can be used as an educational aid in individual, family, and group therapy.
Instructions
This worksheet lists a total of 54 common emotions people feel. They are broken down into 6 basic emotions and 48 related emotions. 
Before using this worksheet with a client, ensure that the client understands the process of how different types of emotions can interact with each other. It can also be helpful to have a conversation about how emotions can be triggered by different situations, and that the initial shock of a triggering situation can cause a flooding of emotions. 
Instruct your client to identify the emotion(s) they are struggling with or experiencing. Then, help the client identify how other emotions can be influencing their affecting emotion.
This worksheet can serve as an aid to help the client develop a plan of how to manage their reaction to triggers for uncomfortable emotions. Provide a copy to the client for reference.
More Anger Management Worksheets