Anger Stop Sign Worksheet
Worksheet published on November 13th, 2018
Worksheet updated on June 21st, 2019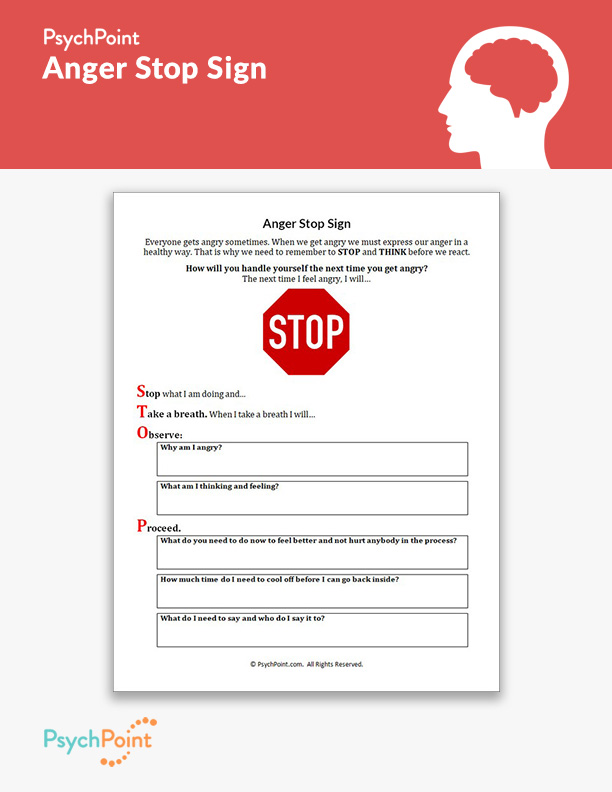 Anger is an emotion that can overwhelm anyone, especially a young child. When a child is not taught proper emotional regulation skills, they can have trouble with learning how to manage their behaviors in reaction to their feelings. This can result in behavioral issues and troubles with communication.
Teaching proper anger management skills helps a child to learn how to manage their anger, and other emotions that trigger their anger. It helps a child gain perspective and understand their own needs when they need them.
About This Worksheet
This is the Anger Stop Sign worksheet. This worksheet utilizes the STOP acronym, which stands for:
Stop what I am doing
Take a breath
Observe
Proceed
With this acronym, a child learns the step by step process for handling their own anger and communicating their needs to feel better. They also learn self-reflection skills which reduces reactive behaviors
Instructions
Explain the process of the STOP exercise to the child, and what each step means in the acronym. Have the child think about the last time they felt upset, so they can use it as an example complete the exercise. Have the child work through the questions with you in order to learn the STOP process.
Instruct the child to take the worksheet home and use it the next time they are angry. Be sure to coordinate with the guardian, so they can maintain consistency and follow-through with the exercise at home.
This worksheet is great for group, individual and family therapy.
More Depression Worksheets