Emotion Regulation Skills: PLEASE Worksheet
Worksheet published on November 20th, 2017
Worksheet updated on January 3rd, 2021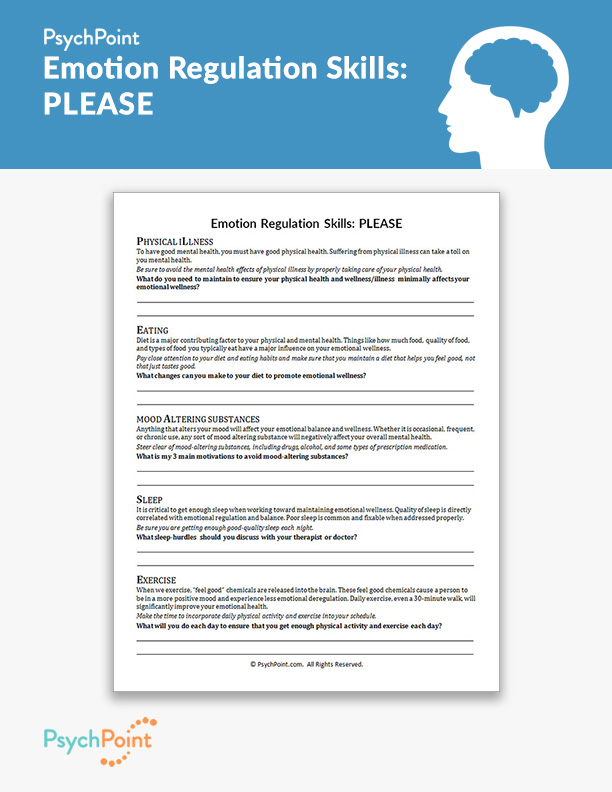 Emotional regulation is an important thing to learn when in therapy. Each of us experiences different feelings and different emotions for a wide array of reasons, and sometimes it can feel overwhelming and can be difficult to keep those feelings and emotions in check. Sometimes, these difficult emotions can lead to chronic feelings of depression, anger and anxiety.
Especially when it comes to feelings and situations that are not easily resolved, it is important to know what you need to feel good and prevent yourself from being engulfed in your own negative emotions. When working with a client who is struggling with emotional regulation, it is helpful to use DBT's PLEASE.
About This Worksheet
This is the Emotional Regulation Skills: PLEASE worksheet. This worksheet works with DBT's anagram, PLEASE to guide clients on creating a positive, healthy lifestyle that promotes mental health and wellness.
The anagram utilizes physical health and illness, eating, mood altering substances, sleep and exercises to promote healthy emotional regulation and the development of positive coping skills. On this worksheet, you will find a guide on how to best utilize this exercise and apply it to day-to-day life.
Instructions
This worksheet provides discussion questions for each section of the anagram. Each question promotes thought and reflection on how the client can improve each area of his or her life. It also promotes self-reflection and encourages the client to develop an understanding of what habits need to be modified to ensure a positive quality of life for himself or herself.
This worksheet should be completed with the help of a therapist. The worksheet is appropriate for group and individual settings and can work well with adolescents and adults.
More Anxiety Worksheets