How To Talk About Your Feelings For Kids Worksheet
Worksheet updated on June 25th, 2019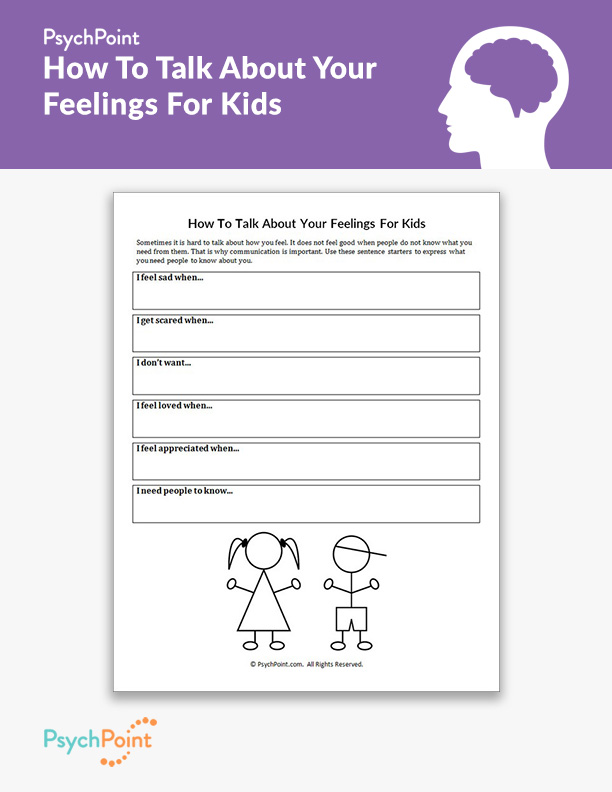 Teaching emotional intelligence skills is important when working with young children. Often children have feelings they may not understand, which makes it difficult for them to express how they are feeling and if they are upset.
This struggle can prevent caretakers and parents from being able to understand the child's needs, and can further complicate behavioral issues and the development of coping skills and social skills for children.
Teaching a child emotional intelligence and emotional regulation is often the first step when working with children with behavioral and developmental issues.
About This Worksheet
This is the How To Talk About Your Feelings For Kids worksheet. On this worksheet, the child is asked to complete six sentences in effort to learn how to articulate how he or she is feeling and what he or she needs from those around him or her.
This worksheet is an excellent exercise for teaching a child emotional intelligence skills and emotional regulation. It also helps teach a child that it is okay to speak up about what he or she is feeling and needing, instead of acting out.
Instructions
On this worksheet the child is instructed to complete 6 sentences:
"I feels sad when…"
"I get scared when…"
"I don't want…"
"I feel loved when…"
"I feel appreciated when…"
"I need people to know…"
The child is to complete the sentence completion with the help and guidance of his or her counselor, social worker or therapist.
After the child has completed the sentence completion task, ask him or her to color in one of the children below and draw a face that shows how he or she feels.
Reflect with the child about the meaning of emotional intelligence and how to use this exercise when at home or at school.
More Gratitude Worksheets