Anger Management Skills Worksheet
Worksheet published on August 11th, 2022
Worksheet updated on August 13th, 2022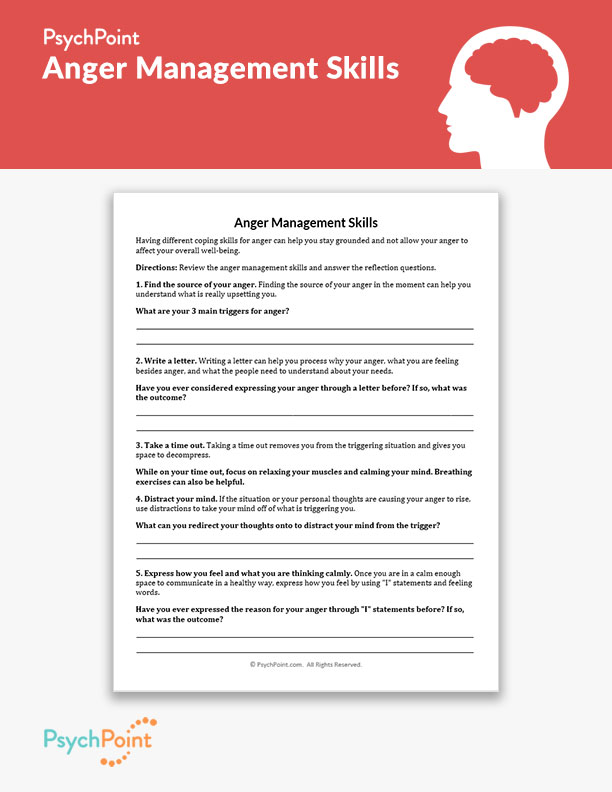 Anger management skills are an important part of maintaining good mental health and healthy relationships. People who struggle with anger are often struggling with other feelings, like stress, grief, and fear. In the moment, they may not realize how many other things are going on that is causing the anger, which can lead to outbursts and even acts of rage.
Struggling with anger management is challenging, but when you do not have healthy coping skills to manage your anger you risk affecting important areas of your life. Having anger management skills can help a person process their anger in a healthier way that causes fewer consequences. Anger management skills can teach a person how to process what they are feeling instead of being reactive, which can prevent anger from causing further issues in the moment.
About This Worksheet
This is the Anger Management Skills worksheet. This worksheet outlines 5 anger management skills that a person can use to process their anger and prevent consequences that may affect their personal life. It also provides reflection questions that the client can use to personalize how the coping skills can be useful for them.
This worksheet can help adolescents and adults who are struggling with controlling or expressing their anger in a healthy way. It can also be helpful for those who struggle with stress management, grief, anxiety, or self-esteem challenges. Individual and group counseling sessions are settings where this worksheet may be useful.
Instructions
Begin by having a conversation about how anger affects the client's life and what negative long-term effects it causes. Then introduce the worksheet and review the five coping strategies that are listed.
Give the client time and space to complete the reflection questions. When the client is done, review their responses and help them develop a method of anger management that promotes healthy use of the coping skills. Provide a copy to the client for reference.
More Therapy Worksheets