Cognitive Distortions: Jumping To Conclusions Worksheet
Worksheet published on May 12th, 2021
Worksheet updated on January 18th, 2022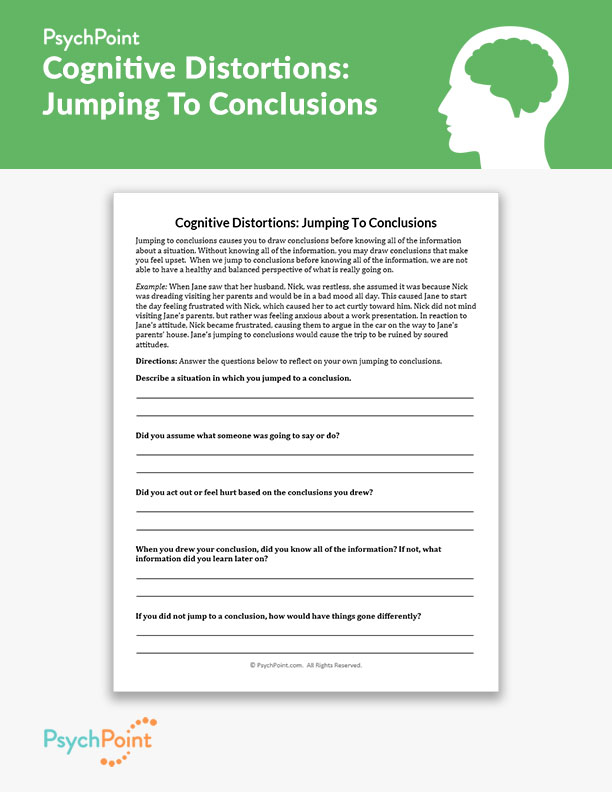 Jumping to conclusions can have a major effect on how a person relates to others and feels about themselves. When people jump to conclusions, they draw conclusions based on part of the whole picture they see. This causes them to assume things that may not be true and can prevent them from handling a situation in their favor.
It is considered a cognitive distortion to jump to conclusions. Jumping to conclusions causes people to misunderstand different situations, which can affect their self-esteem and ability to relate to others. It can also hold someone back from making important life decisions and doing things that could be good for them. Because of this, it is important to educate clients on what jumping to conclusions is and how it can affect a person.
About This Worksheet
This is the Jumping To Conclusions worksheet. This worksheet provides an overview of what jumping to conclusions means and how it can affect a person. This worksheet also provides reflection questions for a client to answer, which will help them understand how their thought patterns are affected by jumping to conclusions.
This worksheet can help adolescents and adults who are participating in cognitive behavioral therapy. It can be used in individual and group sessions.
Instructions
Introduce this worksheet with an explanation of what jumping to conclusions means and how it can be affecting the client's thoughts. Use the example on the worksheet provided to describe how jumping to conclusions happens in a person's mind.
After educating the client on what it means to jump to conclusions, allow them time to complete the reflection questions with their own life example. When they have completed the questions, review the client's responses. Answer any questions they may have and explain how being aware of jumping to conclusions can help them challenge their negative thoughts.
Download Cognitive Distortions: Jumping To Conclusions Worksheet
More Anger Management Worksheets