Chore Chart Worksheet
Worksheet updated on June 21st, 2019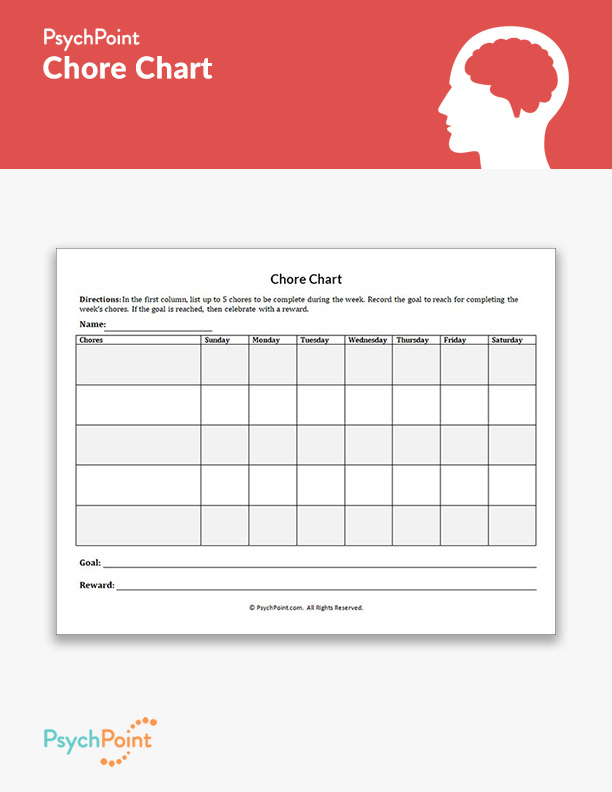 An important part of teaching a child responsibility, accountability and maturity is to provide structure and routine in the daily schedule.
With the help of chores and responsibilities around the house, the child is able to learn how to interact with the world, how to take initiative to be self-sufficient, and how to internalize the good in themselves.
A great way to help a child learn how to take responsibility and be proud of their ability to be responsible is to introduce a chore chart to the family routine.
About This Worksheet
This is the Chore Chart worksheet. On this worksheet there is a weekly calendar that is intended to track completed chores throughout the week.
On this worksheet the child is instructed to track their weekly completed chores. They are also instructed to work toward a goal for completing their chores, and are given the incentive of a reward if they complete all or most of their chores throughout the week.
This chart provides a visual aid to help the child keep up with chores, along with positive reinforcement to stick with the routine.
Instructions
At the beginning of the week, the parent is to sit with the child and review chores for the week. The parent and child work together to:
List up to 5 chores that the child is to complete
Establish a goal to reach for completing their chores
Agree on a reward for the child if they reach their goal
During the week, spend some time each night with the child reviewing what was complete on the chart. Mark all of the completed chores with either a sticker or check mark. If the child reaches their goal they receive their reward.
More Time Management Worksheets