Anger Management Skill Cards Worksheet
Worksheet published on November 26th, 2019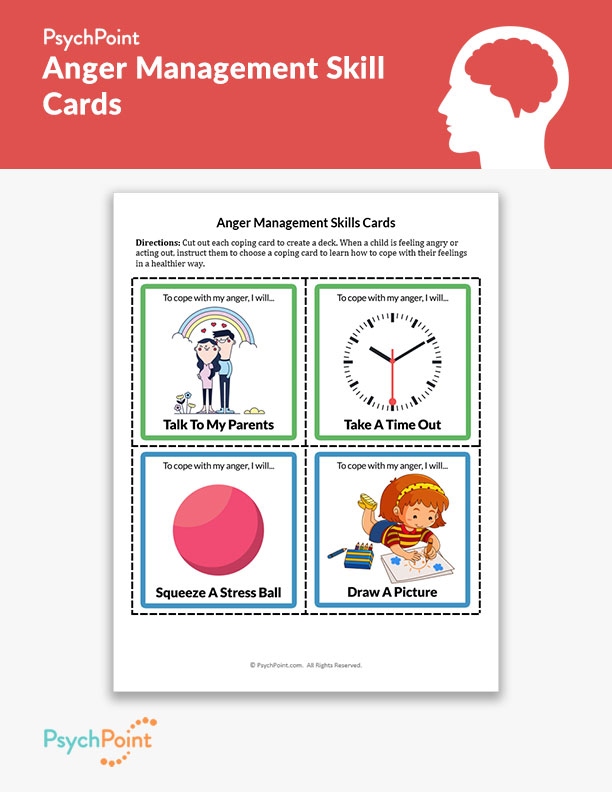 Children often do not understand how to handle their anger in a healthy way. They may act out, shut down, or lash out at others. Anger can be a complicated emotion for children, so ensuring that they understand how to cope with the feeling is important.
Children often need guidance for how to communicate their anger. They also may need guidance on how to control their anger. No child is the same, and each will develop their own strategies for coping.
About This Worksheet
This is the Anger Management Skills Cards worksheet. This is a 3-page long worksheet that provides 12 options for controlling a child's anger.
Each option is presented on a coping card. When a child is angry, they may use the coping cards to learn new strategies for learning how to cope with their feelings.
This worksheet is great for children up to 10 years old. It can be utilized in a variety of therapy and school settings.
Instructions
This worksheet consists of 12 coping cards on three pages. Cut out each coping card to create a deck. It can be helpful to laminate each sheet of paper before cutting out the cards.
Have the deck handy when working with children. If you find a child acting out or struggling to express their anger, use the cards to teach healthy anger management skills. Instruct the child to choose one card from the deck, and take 15 minutes to complete the activity.
Check in with the child to discuss how they were able to manage their anger. Praise them for learning a healthy coping skill and encourage them to use the skill in the future.
More Stress Management Worksheets