Cycle Of Anxiety Worksheet
Worksheet updated on July 17th, 2021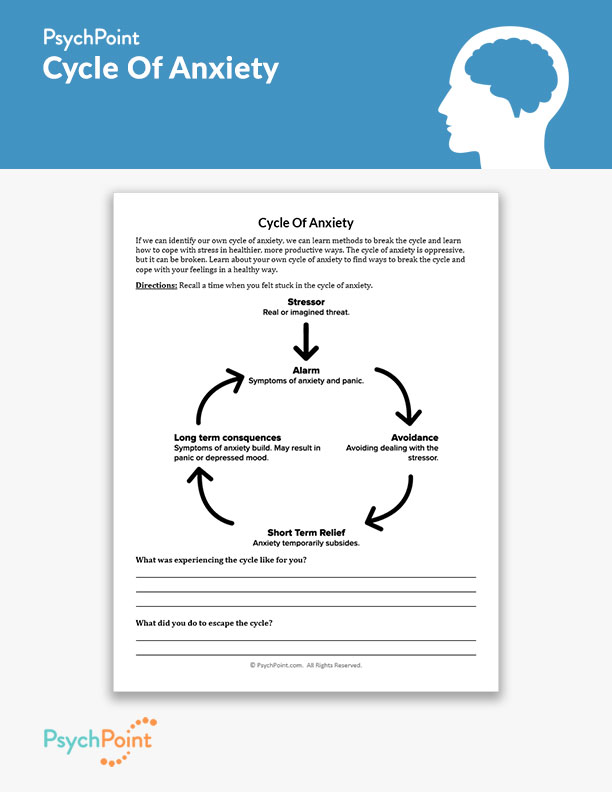 Anxiety is an oppressive emotion for people to feel. People with chronic anxiety tend to suffer from cycles of anxiety, panic and avoidance. It is not uncommon for these people to not realize the cycle of anxiety they fall into, nor how the cycle affects them.
In order to learn how to manage anxiety, a client must first understand how they are affected by anxiety. They need to understand their own anxious patterns, so they can learn how to break the patterns and how to cope with their anxious feelings in a healthy way.
A great first start in teaching a client how their anxiety affects them is teaching them about the cycle of anxiety.
About This Worksheet
This is the Cycle of Anxiety worksheet. This worksheet illustrates the cycle of anxiety and explains how the cycle affects the client.
This worksheet provides a chart that breaks down the cycle of anxiety in a way that is easy to understand and relate to. It also serves as a tool for clients to reflect on their own cycle of anxiety, as it supplies a visual aid and reflection questions.
The Cycle of Anxiety worksheet can be used with adolescents and adults. It is a tool for education and reflection, and can be used in individual and group settings.
Instructions
Provide a copy of the worksheet to your client or group. Review the cycle of anxiety as it is illustrated on the worksheet. After you are confident that your client or group understands the cycle, allow them to reflect on how the cycle affects their own lives.
Instruct the client or group to answer the provided reflection questions. When completed, review the results with your client or group. Keep a copy for your records and allow your client or group members to keep their own copy for reference.
More Time Management Worksheets