Why I Am Grateful Worksheet
Worksheet published on November 21st, 2016
Worksheet updated on July 20th, 2021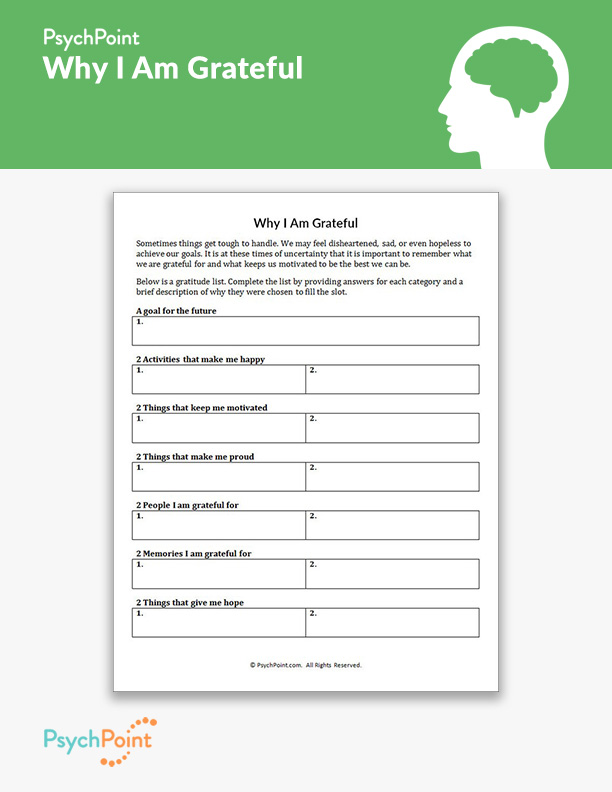 Sometimes when people suffer from low self-esteem, low confidence, or mood disorders like anxiety and depression it is easy to focus on the negative and forget about the positive that they have in their lives. When patients focus only on the negative it is hard to imagine a happy and positive life that has hope, confidence, and a drive to succeed.
Having a reminder of the positive, the happiness, and the accomplishments that patients have had in the past is a great way to challenge those negative thoughts and help them see that it is possible to have positivity and hope.
About This Worksheet
This worksheet is a simple worksheet where the patient is asked to write a list of the things they are grateful for. The patient is asked to list things like goals, people they are grateful for, happy memories, previous accomplishments, and things that make them feel proud. A reminder of such supportive thoughts and resources can raise the patient's confidence and overall outlook on life.
Instructions
Instructions for the patient are simple: write responses to each category and why this aspect of their life was important enough to record. After the patient has completed the worksheet and reviewed with their therapist have the patient fold it up and keep it in their purse or wallet.
When they are feeling low or low on confidence they can pull out this reminder made by them to pick them up and remind them to stay positive.
More Mood Swing Worksheets