Why I Am Grateful Worksheet
Worksheet published on April 10th, 2023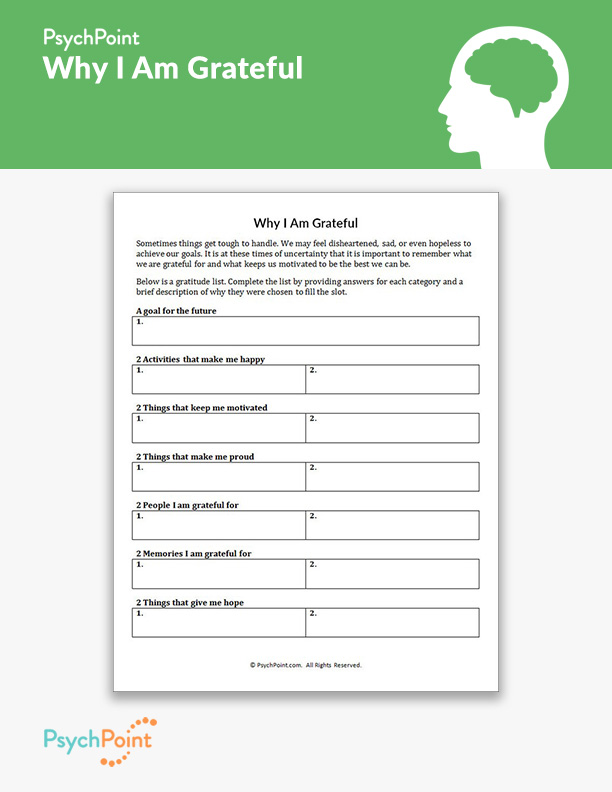 Sometimes when people suffer from low self-esteem, low confidence, or mood disorders like anxiety and depression, it is easy to focus on the negative and forget about the things that they appreciate in their lives. When clients focus only on the challenging or painful parts of their life, it is hard to imagine a life that has hope, confidence, and a drive to succeed.
Having a reminder of the things a client is grateful for is a great tool for challenging negative or upsetting thoughts and helping those clients see that it is possible to have positivity and hope when they are struggling. Gratitude exercises can help remind people who are suffering that there is good in their life when they are feeling consumed by their pains and struggles.
About This Worksheet
This is the Why I Am Grateful worksheet. It is a simple worksheet that helps the client reflect on the things they are grateful for. Having a reminder of the things that a client is grateful for can help them remember not only the good things they have but also what they can do to help themselves feel better when they are overwhelmed by difficult feelings. 
Adolescents and adults who are struggling with their mood, self-esteem, anxiety, and other mental health and life challenges can use this worksheet to help build a healthy perspective. It promotes focusing on the client's strengths, tools, support network, and goals for their future. This helps reinforce hope and balance when feeling vulnerable or weighed down with negative thoughts and difficult feelings.
Instructions
Complete this worksheet in individual or group sessions by reviewing the introduction and explaining how practicing gratitude can help the client manage their mental health. Allow them time to complete the worksheet. 
When they are done, review their results and start a dialog about how their responses. Consider with the client how the exercise can be incorporated into their mental health routine.
You may suggest that the client keep the worksheet accessible to them by keeping a copy in their purse or wallet. That way, when they are feeling low, anxious, or self-conscious, they can pull out this gratitude exercise to promote hope and tolerance for challenges.
More Relationship Worksheets