Past Vs. Present Worksheet
Worksheet published on June 26th, 2019
Worksheet updated on January 4th, 2021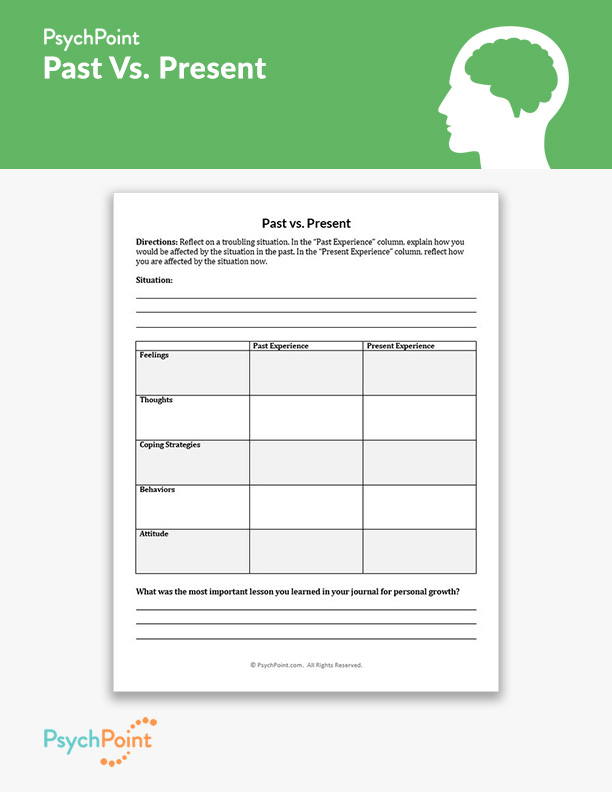 Throughout the course of therapy, it is important for both the therapist and the client to have a concrete understanding of how the client is growing and developing their coping skills. Therapy is more than just talking about feelings. It is about personal growth and learning how to manage thoughts, feelings, coping skills, behaviors and attitudes when faced with a difficult situation.
When a client is struggling with troubling situations, it is important to make sure they are developing skills for personal growth. People in therapy will often face troubling situations recurrently, and it is important to know that the client is growing to better be able to handle these upsetting situations.
About This Worksheet
This is the Past vs. Present worksheet. On this worksheet, client and therapist work together to reflect on the changes and improvements made while in therapy. The client is asked to reflect on how they now handle challenging situations. With the help of the therapist, the worksheet helps to illustrate how the client has grown, and what areas they need to focus on to continue to grow.
Instructions
This worksheet asks for a specific situation to reflect on. The client is asked to reflect on 5 elements of growth. Each of the 5 elements are reflected on by recalling how they would handle the element in the past versus how they handle it now. The client is also asked to reflect on what they have learned from the reflection.
This worksheet should be completed with the help of a therapist. The client will need guidance on how to reflect on their growth and progress. This worksheet can be completed in individual and group settings, and is ideal for adolescents and adults.
More Behavior Worksheets