Wise Mind Worksheet
Worksheet updated on July 17th, 2021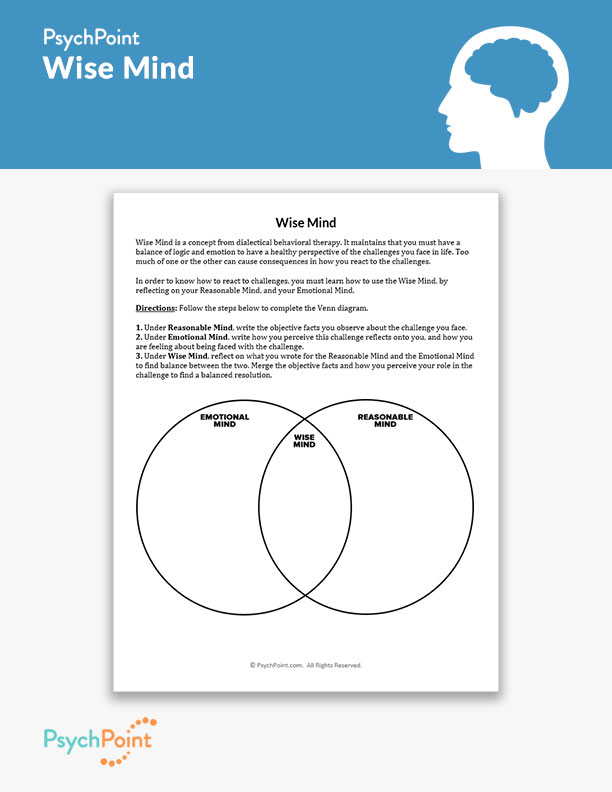 It can be challenging to have a balanced and healthy perspective on life's challenges. Clients often struggle to understand how they think and feel, and how their thoughts and feelings can affect a situation.
When a client is being negatively impacted by their behavior, it is important to help them take a step back. A great method for understanding a client's behavior is to help them to learn how to reflect on their thoughts and emotions. That way, they can learn how their thoughts and feelings affect them.
They must also learn how to understand the difference between subjective reality and objective reality. Subjective reality refers to a perspective of the world and how it affects them. Objective reality is being able to see what is happening in the world, without considering their own perspectives.
Sometimes, a client has a tendency to react purely either by logic or emotion. In doing this, they neglect a part of what they perceive, and do not have balance in their decision or reactions. Both logic and emotion are important to take into consideration when determining how to react to a challenge in life. If a client can learn how to find balance between these two forces, they will be able to approach challenges from a healthier perspective.
About This Worksheet
This is the Wise Mind worksheet. This worksheet uses the concept of the Wise Mind. This concept is a part of Dialectical Behavioral Therapy (DBT).
In the Wise Mind exercise, the client is taught the difference between thinking with logic and thinking with emotions. They are challenged to consider the two types of thought separately. In doing so, they begin to understand how each type of thinking affects the client's decision making process.
On this worksheet, the client is asked to complete a Venn diagram. The Venn diagram serves as a visual aid for how logic and emotion produce wisdom and mindful decision making.
This worksheet is best used with adolescents and adults. It is great for individual and group therapy, and can help people who suffer from anxiety, behavioral issues, anger management issues and personality disorders.
Instructions
This worksheet is completed in three steps. Each step is completed by filling out a section of the Venn diagram. Before having your client complete the worksheet, explain to them the concept behind the Wise Mind, and how it reflects work with DBT.
While summarizing the concept of the Wise Mind, explain the difference between the Reasonable Mind, Wise Mind and Emotional Mind. It is important for the client to understand the definition of each component before being instructeed to complete the worksheet.
When the client expresses understanding of each component of the Wise Mind, instruct them to complete the three steps. Have the client choose a life challenge they are currently facing for reference while completing the worksheet.
When the client has completed the assignment, review the results with them. Reflect on the process of the worksheet and how it can be helpful in real life challenges outside of therapy. Provide a copy of the assignment to the client for reference.
More Mood Swing Worksheets