Distress Tolerance Skills: ACCEPTS Worksheet
Worksheet published on September 5th, 2018
Worksheet updated on January 3rd, 2021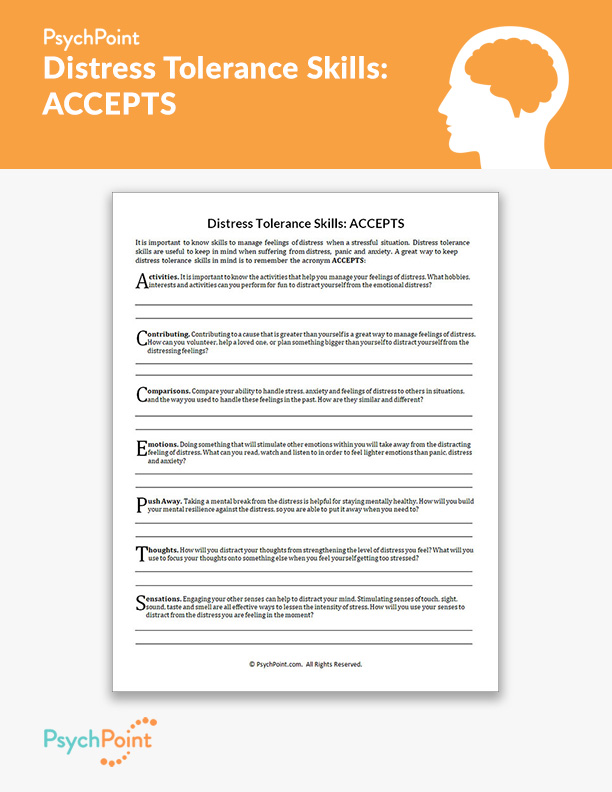 Dialectical behavioral therapy is particularly useful when it comes to teaching a client how to handle distressing or upsetting situations. DBT teaches coping skills for stress tolerance, emotional regulation, and the reduction of mood swings and panic attacks. DBT provides several different tools that help a person learn how to cope with upsetting emotions like stress, anxiety, depression, anger and distress. Among the most effective coping skills DBT teaches is ACCEPTS.
About This Worksheet
This is the Distress Tolerance Skills: ACCEPTS worksheet. The goal for this worksheet is to use the acronym ACCEPTS to learn how to cope with distress.
The acronym uses the following concepts to teach a client how to manage distress:
Activities
Contributing
Comparisons
Emotions
Push Away
Thoughts
Sensations
In using this worksheet, the client will learn skills to cope with distress and other upsetting emotions. The client will learn how to reflect on his or her thoughts and emotions, and how to use his or her coping skills to minimize distressing feelings.
Instructions
This worksheet breaks down the acronym, ACCEPTS, to teach the client how to use the acronym to work through stress and emotional upset. After the breakdown of each letter, the client is asked to respond to a reflection question.
Begin by reviewing the concept with the client. Then, review the content of the worksheet with the client to explain how to complete the reflection questions. This worksheet can either be session work or homework. This worksheet is great for both individual sessions and group therapy.
More Mood Swing Worksheets