Vicious Cycle Worksheet
Worksheet published on May 24th, 2021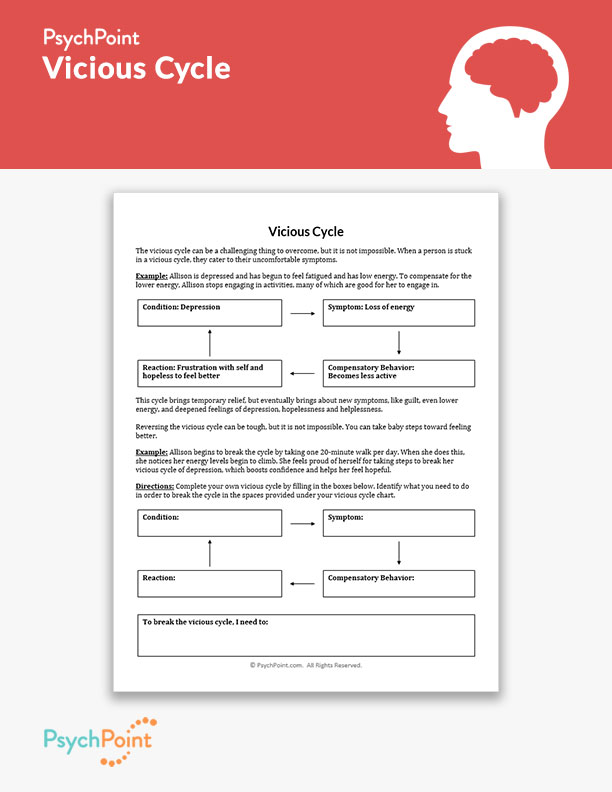 Managing symptoms of mental health conditions can be challenging, especially for clients who prolonged mental illness or clients who are new to managing their mental health and wellness. It is common for clients to give in to their symptoms and allow them to take control, which can feel good at the moment, but causes a worsened condition in the long term.
This pattern of behavior is referred to as the vicious cycle. The vicious cycle is the act of catering to uncomfortable symptoms, which worsen conditions of mental illness. It is important for clients who are managing their mental health to be mindful of the vicious cycle and learn methods of coping to break it.
About This Worksheet
This is the Vicious Cycle worksheet. On this worksheet, there is a breakdown of what the vicious cycle is and how it affects a client. The worksheet also provides an example of how the vicious cycle can affect a client with mental health conditions and mental illness.
This worksheet can help educate clients on how symptoms can affect a client's mental health and ability to cope with their condition. It works well in individual and group settings and can be helpful for adolescents and adults. This worksheet can be particularly useful for clients who are struggling to cope with anxiety, impulse control issues, and mood disorders.
Instructions
Introduce this worksheet and explain the concept of the vicious cycle. Refer to the example provided to explain what the vicious cycle is and how it affects a client. After explaining the concept of the vicious cycle, complete the exercise with the client.
Guide the client through their vicious cycle. Help them identify their symptoms and compensatory behaviors. Allow them time to reflect on how the vicious cycle affects them, and brainstorm methods of breaking the vicious cycle. Be sure the client understands how breaking the cycle can help with managing their condition and provide the client with a copy of the worksheet for reference.
More Depression Worksheets