Relationship Conflict Resolution Worksheet
Worksheet updated on February 16th, 2022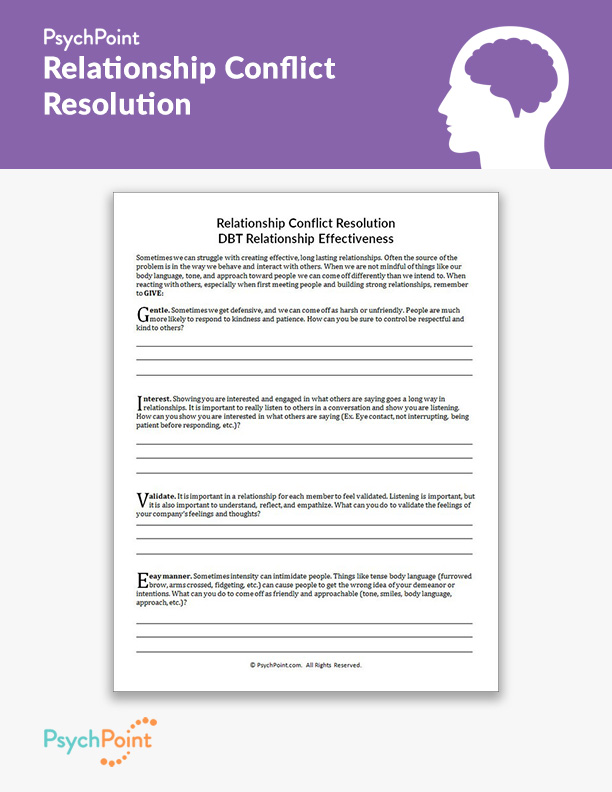 When working with patients who struggle with relationship issues and communication issues, it is important to be sure the patient understands the core elements needed in developing relationships. Patients often struggle with building relationships, getting to know people, being open to others, and communicating.
When patients struggle with these issues it is important to teach them skills and values needed to make a connection with others. Teaching a patient how to behave and interact with others will help a great deal with their therapeutic process.
About This Worksheet
This is the Relationship Conflict Resolution worksheet. It incorporates dialectical behavioral therapy's relationship effectiveness concepts to create a guide for patients to learn how to interact with others.
The worksheet uses the anagram GIVE to teach patients how to engage the following skills:
Gentle
Interest
Validate
Easy Manner
Each of these skills is outlined and described on the worksheet. It serves as a guide for patients to improve their social and communication skills.
Instructions
This worksheet works with the GIVE process developed for dialectical behavioral therapy. It requires time and patience for the patient to learn and understand. For the first few attempts at filling out this worksheet the patient should be accompanied by a therapist to answer questions or redirect the thought process.
This worksheet is excellent for anyone who is struggling with social skills, communication, or relationship issues. It can be utilized in individual, family, and couple's counseling.
More Social Skills Worksheets