Relationship Growth Activity Worksheet
Worksheet published on June 2nd, 2020
Worksheet updated on January 3rd, 2021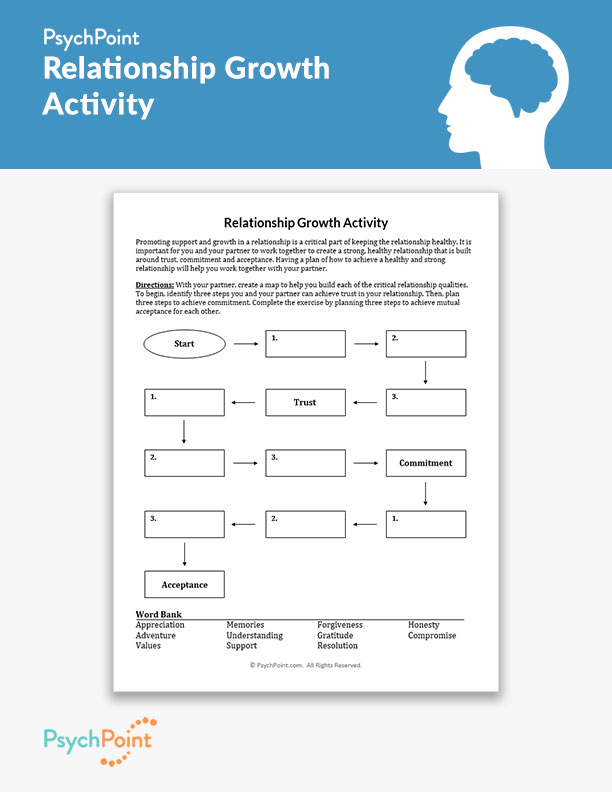 Relationships can be challenging at times. There are many obstacles a couple faces throughout the course of their partnership. It is not uncommon for a couple to fall out of sync with each other. Whether it is dishonesty, unfaithfulness, or just troubles with managing work and family, every long-term couple will face its trials.
Every relationship faces trials, but those trials do not mark the end of the relationship. It is possible for a couple to recover from a challenging time. The couple can grow stronger and closer to each other. A great first step to recovering from challenges in a relationship is to establish a plan for recovery. The plan of recovery should consist of 3 key values: trust, commitment and acceptance.
About This Worksheet
This is the Relationship Growth Activity worksheet. This worksheet provides a guide for a couple to set their path toward a stronger relationship. The guide consists of a path for achieving the three values of trust, commitment and acceptance. It is set up in a step-by-step process that is personalized to the couple's unique needs.
This worksheet is intended for adults. It is a great resource to use for couples who are struggling with trust, intimacy or other relationship issues. The Relationship Growth Activity worksheet should be used in conjunction of regular couples counseling sessions.
Instructions
Before having the couple complete the worksheet, review the introduction and directions. Explain the importance of the 3 values of trust, commitment and acceptance. Be sure that the couple understands how these 3 values can help them strengthen their relationship.
Instruct the couple to complete the step-by-step process toward achieving each value. Allow the couple to work together to create each step and brainstorm ways to achieve each value. Each step should include an actionable objective to achieve in order to move to the next step. The couple may use the provided word bank for extra support if they are having trouble.
When the couple has completed the worksheet, reflect on the steps and help them prepare for any obstacles they anticipate. Provide a copy of the worksheet for each partner. Use the worksheet for reference when checking in with the couple over the following sessions.
More Therapy Worksheets