Cognitive Distortions: Labeling Worksheet
Worksheet updated on June 16th, 2022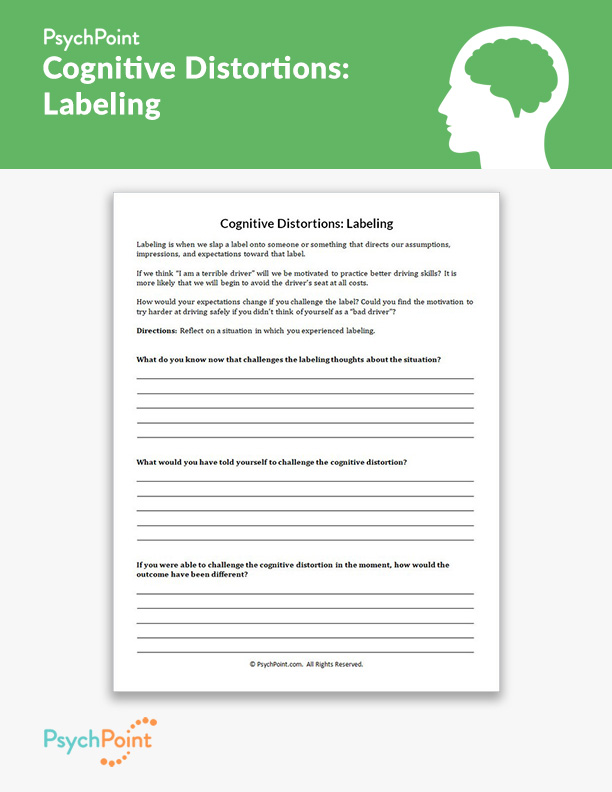 Cognitive distortions, or errors in thinking, can cause a person to misinterpret situations and see themselves in a negative light. They are powerful and can have effects on a person's sense of self-esteem, mood, and reactions to challenging situations. Teaching a client in therapy about how cognitive distortions may be impacting their mental health can be a great way to introduce helpful thought-challenging skills.
Cognitive distortions can affect motivation, perspectives, expectations, and self-image. They are powerful, so it is important to keep their impact in mind when learning how to improve thought patterns in therapy. 
A cognitive distortion that can be particularly powerful is labeling. Labeling can affect a client in many different ways. If a client tends to label, they need to understand how it is affecting them. This can help them understand how their patterns of thinking may be negatively impacting their mental health.
About This Worksheet
This is the Cognitive Distortions: Labeling worksheet. This worksheet breaks down the concept of labeling and how it affects a person.
In working on understanding what labeling is, a client can learn how the pattern affects them, how it can be hurting their self-image, and how it is distorting their interpretation of upsetting situations.
This worksheet is great for individuals who are participating in individual or group sessions. It can help people who are struggling with mood disorders, self-esteem issues, and challenges with stress management.
Instructions
This worksheet provides a brief explanation of what labeling is and an example of how it can affect a client's thoughts. Review the material on the worksheet with your client. Then, instruct them to reflect on how labeling affects their life by answering the questions provided on the worksheet.
When the client has completed the reflection questions, review their responses with them and relate them to the concept of labeling. If needed, provide a copy for the client to use as a reference.
More Self-Esteem Worksheets