My Partner's Qualities Worksheet
Worksheet published on October 15th, 2019
Worksheet updated on January 3rd, 2021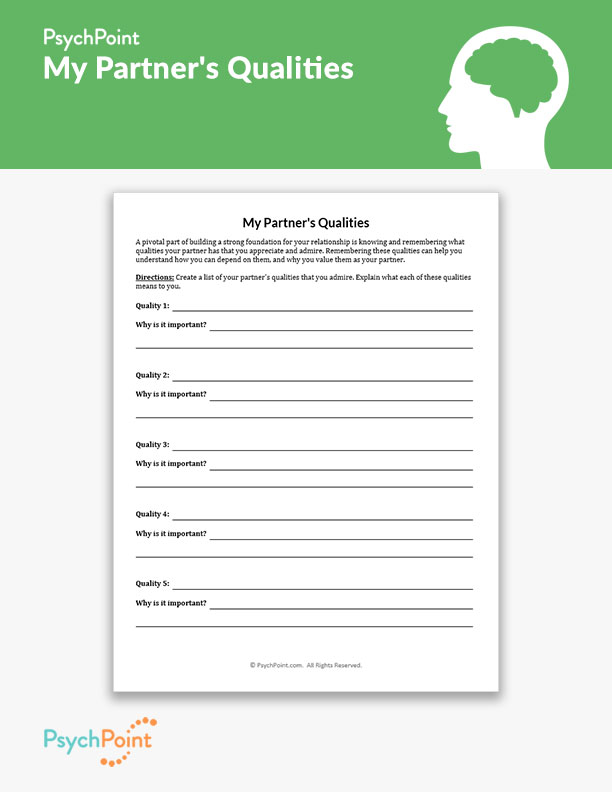 A huge part of being able to build a strong relationship is to know how to acknowledge your partner's qualities, and be able to articulate why the qualities are important to you. Building a strong foundation takes time, dedication and patience. Couples need to learn how to communicate, compromise, and express appreciation for one another.
When a couple is struggling with trust and communication, this can become difficult. Expressing appreciation for different qualities in a partner can make a person feel vulnerable if they do not feel secure in their relationship. A great exercise to build a bond and trust in a relationship is to teach each partner in a couple how to express appreciation for one another.
About This Worksheet
This is the My Partner's Qualities worksheet. This worksheet works to help couples in their goal of building a foundation of trust in their relationship.
This worksheet challenges each partner in a couple to articulate the qualities they appreciate in one another. It helps the couple understand what each partner values in the other. It also helps to teach how to express appreciation and what each can do to be reliable for their partner.
This worksheet is great for adults in couples counseling, marriage counseling and family counseling.
Instructions
Begin by explaining to the couple the purpose of this worksheet. Explain that the main takeaway from this exercise is to learn how to acknowledge and express appreciation for what they admire and appreciate in their partner.
After explaining the goal of the worksheet, instruct each partner to complete it on their own. Given them time to complete the worksheet's contents.
When each partner in the couple has completed the worksheet, have them take turns sharing each of the things they appreciate about the other. At the end of the worksheet exercise, reflect on how the worksheet has made each partner feel.
More Values Worksheets