Pocket Support Worksheet
Worksheet published on December 12th, 2022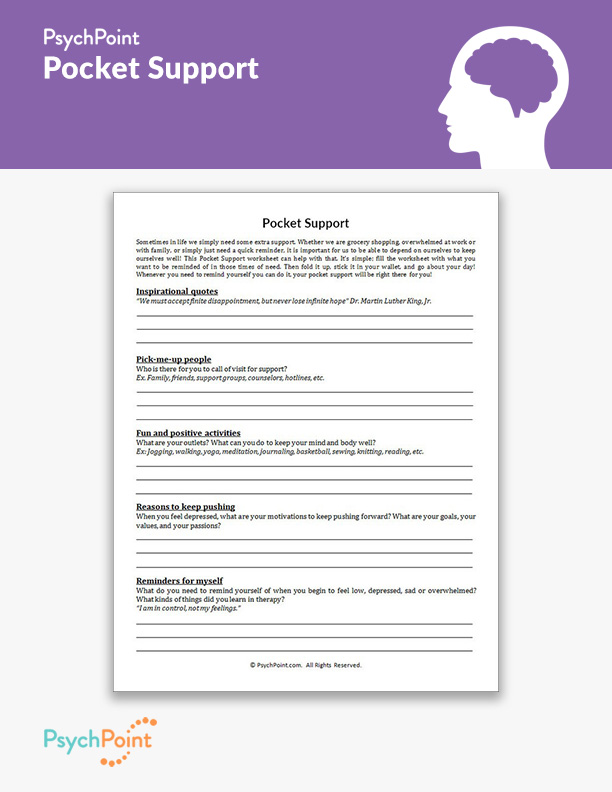 In therapy, a client learns a lot about their emotions and gain perspective on their life challenges. Through self-exploration, they learn different ways to cope with the challenges they face.
Therapy teaches coping skills that help clients relieve their symptoms in real-life situations. They learn valuable life skills in sessions, but sometimes it can be hard for them to remember to use their coping skills in moments of high stress.
Sometimes in the heat of emotions and stress, a client can forget the coping skills they learned and how to use them properly. They need a reminder of what they can do to cope in a healthy way.
About This Worksheet
This is the Pocket Support worksheet. This worksheet is inspired by traditional coping cards that are used in cognitive behavioral therapy (CBT).
The Pocket Support worksheet serves as a reference for support and motivation to use healthy coping skills. It helps clients remember how to use their support network, coping skills and personal motivations to manage challenges in a healthy way.
Those who complete the pocket support worksheet tend to keep it for reference even after completing therapy. It is a great resource for adolescents and adults to use in real-life situations, and can be used in individual and group sessions.
Instructions
Before assigning the Pocket Support worksheet, explain to the client that it is to be completed and kept with them outside of therapy sessions. Introduce the worksheet as a tool for reminding them what they can do and need to remember when they need support. Encourage the client to refer to the worksheet in times of high stress and controversy.
Complete the five sections of the worksheet with the client during the session. Explain to the client that this can be their first line of support when feeling triggered. On this worksheet, they will have reminders and resources for working through their triggers and symptoms.
Instruct the client to keep the worksheet either in their wallet or someplace where they will always have easy access to it. For example, you may suggest that the client takes a picture of the worksheet to store on their phone.
More Motivational Interviewing Worksheets