Understanding Depression Worksheet
Worksheet updated on July 9th, 2018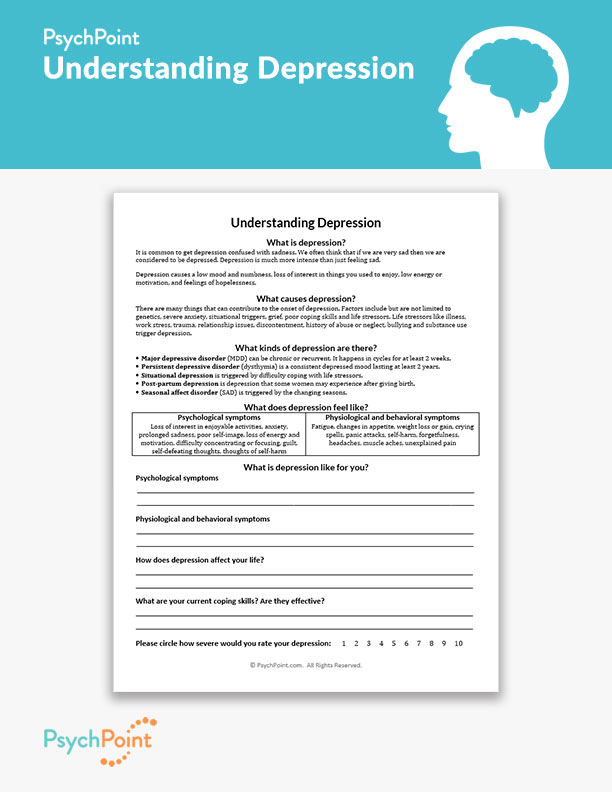 Depression is arguably one of the most difficult disorders to cope with on a daily basis. Many patients with depression truly believe that they cannot get better, and therefore tend to not be very hopeful in therapy at first.
It is because of this belief that so many people with depression are sometimes resistant to take home the things they learn in therapy.
About This Worksheet
This worksheet serves as a guide to educate those suffering from depression about the different kinds, symptoms, and causes of depression. It also helps the patient to be more hopeful as they learn there are many others go through the same feelings as they do.
Often, a patient suffering with depression can identify with others who also suffer from depression, which helps them feel hope about the therapeutic process.
This worksheet is useful in both individual and group therapy and would be particularly useful in opening discussion in a group setting to help build camaraderie and support among the patients.
Instructions
This worksheet is both informative and reflective. It begins with information about what depression is, what causes depression, the types of depressive disorders, and what it feels like to have depression.
Discussing the content with the group or patient would be helpful with opening dialog and allowing for questions. After the content has been reviewed the patient is asked to answer the questions about how depression affects his or her life.
Related PsychPoint Emotions Worksheets